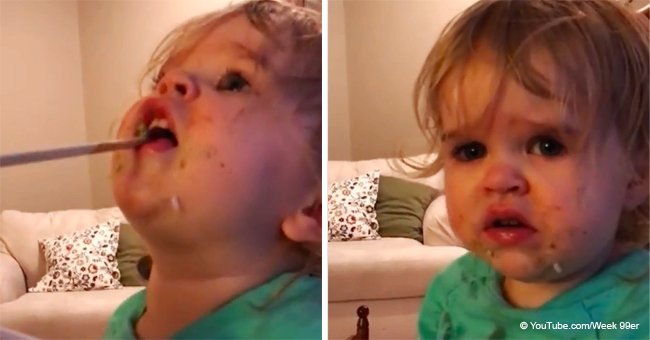 Mom blamed with child abuse after filming herself feeding wasabi to toddler
Priceless reactions from kids eating spicy or sour foods have become a classic internet meme. In this video, however, a baby literally cried out for "help" when her mom fed her wasabi, and the internet is split on how dangerous the incident was.
The video, which you will see below, starts off with the mother asking her daughter if she wants to try Wasabi, a sushi topping known for its extreme spiciness and burning sensation. The child responds a decisive "No," but the mother persists by asking once more. This time the child seems a bit less confident, hesitatingly saying "No" again.
Shrugging it off, the mother appears to give up, but the child has had her curiosity peaked. "Wasabi," she says, letting her mother know she's ready to try the strange and new taste.
After encouraging her to smell it first, the mother carries to her daughter's mouth a small portion of the wasabi using chopsticks. The young child obliges, biting off a minuscule amount and taking a moment to let the taste and effect of the wasabi sink in.
Soon, she focuses towards the camera and expresses a solemn, "Help."
The mother's reaction is one of amusement accompanied by giggles of laughter. For many, this proves to be an issue. For others, both the act and the reaction by the mother compelled them to describe the whole debacle as child abuse.
Another group is all for the experiment, indicating they think its funny and adorable, and believing it to be harmless. Shared over 211,000 times since its initial posting on Facebook in March, comments range from extreme outrage to accusations of poor parenting and calls for legal interference.
One health-focused website called Parenting Healthy Babies leans towards a less condemning approach. In actuality, wasabi might actually provide anti-inflammatory benefits, detoxification, improved digestion, and other positive results when taken in small amounts by small children.
According to them, it's unlikely that any harm will come to the young girl. Genuinely concerned persons can rest assured of that, while more passionate onlookers may be willing to relax on attacking the girl's mother.
Please fill in your e-mail so we can share with you our top stories!