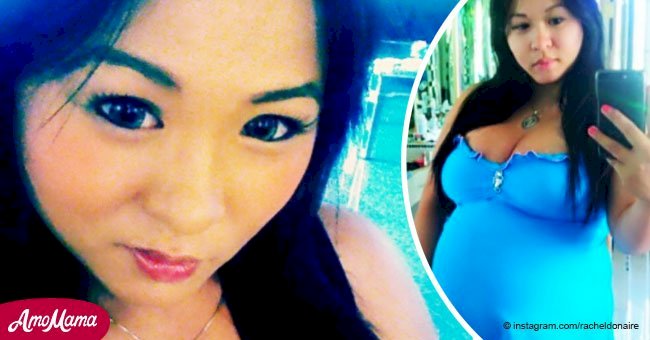 9 months pregnant woman saw a child drowning and her reaction went viral
Her husband is famous for his punches, but Rachel Donaire rose to fame on her own right after she risked her pregnancy without thinking twice when she saw a child in trouble.
36-year-old Rachel Donaire is the wife of 35-year-old Filipino boxing star Nonito Donaire Jr., who according to Rappler, one year before the event, in 2012, was named "Boxer of the Year" by ESPN.
Rachel, who was 9 months pregnant at the time, did not hesitate for a second before diving in a pool when she saw that the son of some friends was about to drown.
The couple was enjoying a picnic with close friends of theirs to celebrate a holiday when the child in question was left his parents's sight and turned out to be struggling in the water. Read more on our Twitter account @amomama_usa
On July 2013, Nonito took to his Twitter account to comment on the incident, gradually revealing further details about the series of events that surrounded his wife's heroic actions, as ESPN reported.
"Rachel didn't hesitate to jump in to save the child but injured herself in the process. She moved so quickly it scared me," the sportsman tweeted.
HER COURAGEOUS ACT SENT HER TO THE EMERGENCY ROOM
Following the considerable effort, she made at an advanced pregnancy the "Knockout Queen" was admitted to the emergency room to monitor the condition of her unborn child. Fortunately, the baby suffered no harm.
However, Rachel reportedly felt a sharp pain upon waking that, according to the doctors, was due to a torn ligament.
The "Filipino Flash's" wife was advised to rest for a few days, but apart from the pain, it was all worth it. Not only she saved the life of a child, but also she became a national heroine.
The incident left a good impression on everyone, and the couple received congratulations from social media users, including senators from the Philippine State.
"The Donaire couple are truly a source of pride and inspiration for all of us Filipinos. This news that Rachel risked her own life to save another person's life is an exceptional display of courage and heroism."
-City of Davao Rep. Karlo Nograles, Philstar Global, July 8, 2013
THE INSTINCT OF CARING FOR OTHERS
What made this story so popular on its day, apart from its famous protagonists, is the idea of a woman who is days apart from giving birth and still can put the safety of others before her own.
However vulnerable we all are as humans, whenever a crisis occurs our instincts and empathy arise, and it is amazing how fast we can react, only thinking about helping, according to the circumstances.
Pregnant women are traditionally portrayed as fragile, passive, and in need of constant care. But Rachel didn't think twice when she felt she was the one who could make the difference for this distressed child.
Heroes come in all shapes, ages, genders, and conditions, as the story of Lexie Comeau-Drisdelle from Halifax, Canada, reminds us.
Comeau is a 9-year-old girl with cerebral palsy, a condition that makes her unable to walk or talk, but when she noticed her 18-month-old brother heading toward the family's pool, she used the only resource she had to save the day.
Thanks to her insisting and loud screams, her parents became aware of the situation and took the toddler out of the water in time to save his life.
Please fill in your e-mail so we can share with you our top stories!