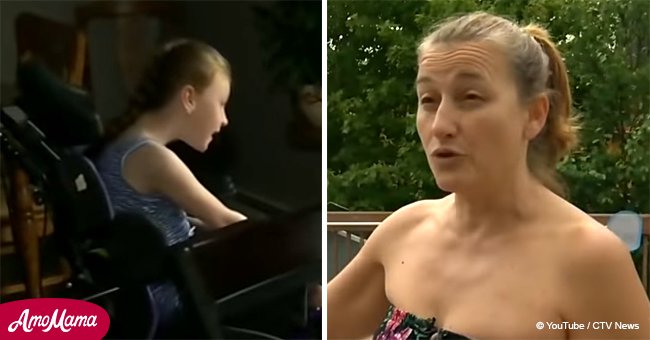 9-year-old girl who can't walk or talk heroically saves baby brother from mortal danger

Lexie Comeau-Drisdelle, 9, who's unable to walk or talk because of her cerebral palsy, saved her baby brother from drowning.
On May 5, 2018, Lexie's family was busy preparing for her ninth birthday party in their home in Halifax, Nova Scotia when her 18-month-old brother, Leeland, headed toward the family's pool.
The young girl cannot talk or run after him because she has cerebral palsy.
Follow us on our Twitter account @amomama_usa to learn more.
Knowing her brother's life was at risk, Lexie screamed at the top of her lungs because that's the only thing she can do.
During that time, Kelly Jackson, Lexie and Leeland's mother, was upstairs to change for the party, while their grandmother, Nancy Comeau-Drisdelle, continued working on party details in the kitchen.
In an interview with CTV Atlantic, Kelly remembered the moment she heard Lexie belt out a scream.
"All of the sudden, I'm upstairs, and I hear her screaming... We've never heard her scream like that," she said.
When Nancy heard Lexie's screams, she quickly ran to investigate.
The grandmother then noticed that Leeland was gone. She also saw Lexie pointing at the door that leads to the swimming pool.
"She's yelling, and she's pointing at the door, and I realize Leeland's not with her," Nancy told CTV Atlantic.
"I took off outside, and I'm not seeing him. I ran, and he's right by the edge (of the pool), and I took him out."
The family immediately took Leeland to a local hospital. Luckily, the baby did not drown. Though he swallowed water, the doctors told the family he was fine after being checked out.
Leeland owes everything to Lexie. She undoubtedly saved his life despite her physical challenges.
According to Lexie's family, that was the birthday party they will never forget.
"I hugged [Lexie], I cried, and I still thank her every day. Because honestly, in that matter, two seconds makes a huge difference," Kelly said.
On July 5, 2018, the Halifax Regional Council and the city's police department honored Lexi as a hero.
Flashing a huge smile, Lexi showed off her award that honoring her heroic deeds.
"Heroes come in all sizes. It was a real pleasure to recognize young Lexie for alerting her mom when her toddler brother made a dash for the pool," said Halifax's Mayor Mike Savage in his Twitter post.
Nancy said Lexie is a proof that anyone can be a hero. "You don't need to be able to walk and talk and have all your senses," she told CTV Atlantic.
The proud grandmother added that "You can still make yourself heard, and you can still help."
Using her family's scary situation as a way to advocate for people with disabilities, Kelly pointed out that just because someone can't speak, doesn't mean the person doesn't understand what's happening.
Please fill in your e-mail so we can share with you our top stories!