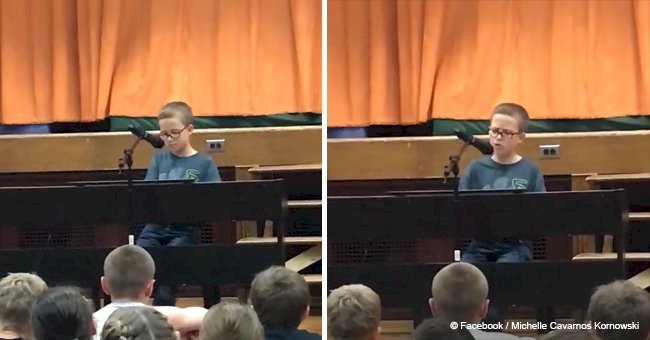 10-year-old boy becomes an internet sensation with a heartwarming 70's tribute song performance
A Minnesota fourth grader named Adam Kornowski impressed the audience during his school performance by singing the iconic John Lennon song.
Uploaded to Facebook by his mother, Michelle Cavarnos, the video sees the young boy performing a stunning rendition of John Lennon's "Imagine."
During his performance, Adam not only displays his jaw-dropping singing talent but also shows his remarkable skill on the piano as he provides music to his song all by himself.
Adam's proficiency in piano is as admirable as his powerful vocals. Despite his age, he didn't seem to struggle on any note whatsoever and presented one of the most soothing covers of the iconic song.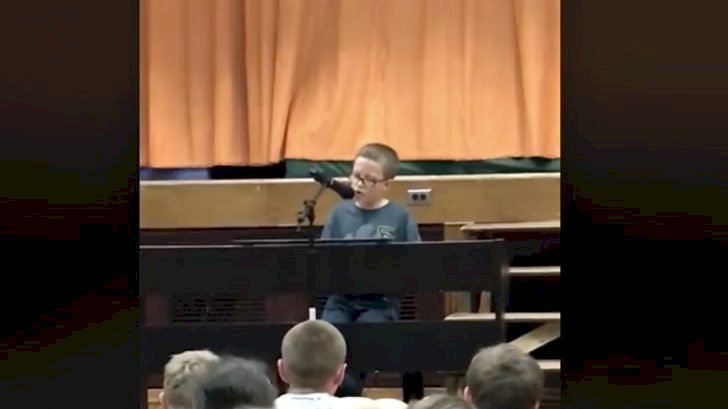 Source: Facebook/Michelle Cavarnos Kornowski
Follow us on Twitter to learn more.
In the caption to the video uploaded on Facebook, Michelle informed that Adam's performance came during his school's talent show amid an audience comprising of parents, teachers, and students.
At the end of the performance, there wasn't a single parent with a 'dry eye,' Michelle explained. She added that Adam received a huge round of applause as well as standing ovation at the end of his performance from the crowd. For her, the applause felt like it 'lasted forever.'
'A woman stopped me to tell me that she would buy it on iTunes if I put it out there!' she wrote before concluding her message by stating that she loved her son's polite bow at the end of the performance.
The heartfelt performance has so far been viewed more than 13 million times and has been shared over 313,000 times making it go viral on social media.
It has also gathered over 184,000 reactions and more than 39,000 people have taken time to praise the young boy in the comments section.
Meanwhile, Country Music Family informed that "Imagine" is one of the most beloved songs in history, which was written and recorded by the legendary John Lennon in 1971.
It became more than just a musical sensation and rose to fame and popularity as an anthem of unity and togetherness. The song has been covered by several people over the years including other iconic singers including Dolly Parton and Willie Nelson.
Back in 2017, one of the most popular a cappella group, Pentatonix, also released a cover of the iconic song. Their rendition of "Imagine" proved to be one of the most unique covers of the song of all time.
It gathered more than 400,000 views on YouTube, making it go viral on the internet, and helped the band earn a worldwide appreciation.
Please fill in your e-mail so we can share with you our top stories!