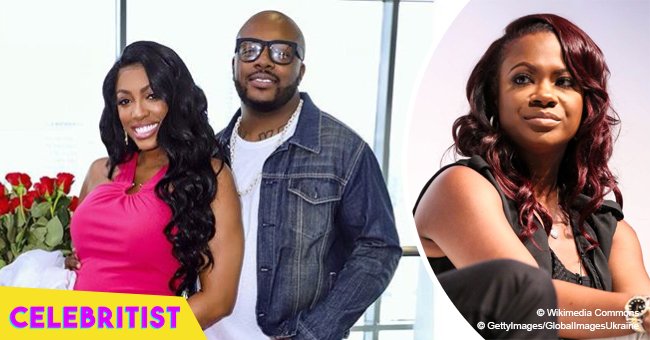 Kandi Burruss calls Porsha Williams' fiancé a 'dog' in recent video

In the new trailer of "The Real Housewives of Atlanta", Kandi Burruss explicitly called co-star, Porsha William's fiancé a '"dog."
Three days ago, a new trailer for the tv show "Real Housewives of Atlanta" was released, and caught in the trailer was Kandi Burruss' confession of calling her co-star, Porsha Williams' fiancé, a dog. The clip previewed Porsha in love with her fiancé, Dennis McKinley, and excited for their baby to come. Meanwhile, other co-stars grill the mother to be about Dennis' unfinished business with his ex.
Porsha shuts down their allegations by arguing,
"He got my name tattooed, so he ain't going nowhere."
Lauren, Porsha's sister, does not believe in Dennis however. The sister told Porsha that he has been unfaithful, and was still in contact with his ex-girlfriend a couple of weeks ago.
"He just cut his ex off a couple of weeks ago. They still communicate."
In one scene, Kandi comments, "He's a dog all right" and from the glimpse of it all, we can see why she had to make such comment.
Kandi and Porsha had their fair share of arguments in the past, including one that happened last August. The two Atlanta stars unfollowed each other on the social platform Instagram after Kandi's husband, Todd Tucker's birthday party. Speculations were that they were in bad terms after Phaedra Parks told Porsha that Kandi wanted to drug and rape her.
Also seen in the trailer, was Kandi's reaction to Porsha's announcement of expecting a baby, which wasn't so nice. This could probably be because Kandi herself has been wanting to have more children, but can't. The frustrated star also showed emotion and shed some tears while being asked by the doctor about her wanting a child, after already having three.
"The Real Housewives of Atlanta" is now on its 11th season and will premiere on Sunday, November 4th. The stars Kandi, Porsha, Cynthia, NeNe, and Eva will be joined by Shamari DeVoe, Marlo Hampton, and Tanya Sam.
Please fill in your e-mail so we can share with you our top stories!