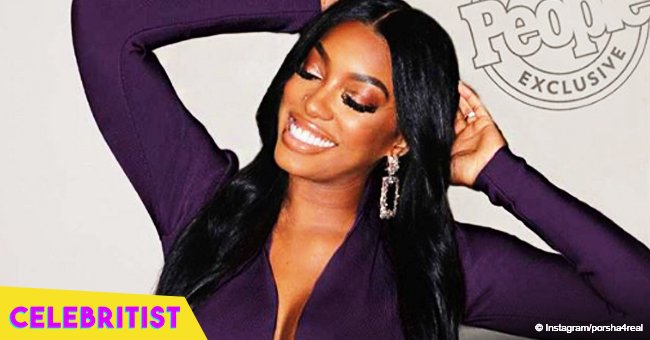 Porsha Williams reveals she's engaged to boyfriend Dennis McKinley and shows off her diamond ring
Two weeks ago, Porsha Williams revealed she's pregnant with her first child, and now she shared more good news: she's engaged to her boyfriend Dennis McKinley. The reality star shared photos of the joyful occasion showing off her huge diamond ring.
It's been a good couple of months for the "Real Housewives of Atlanta" star Porsha Williams. After a failed marriage and some more relationships, it seems like she finally found true love with her boyfriend of less than a year, Dennis McKinley.
Williams took to Instagram on Monday to share the good news of her engagement, and she did so by showing off her huge diamond ring. McKinley popped the big question on the weekend, and Porsha hinted at the engagement by posting a photo in a red dress with her ring on display and the caption:
"Feed off of good energy or bad energy will feed on you! – PW"
She confirmed her fans' suspicions with an adorable set of pics alongside Dennis, in which he's kissing her cheek as she proudly shows the ring to the camera with a big smile on her face. "I said YES...." she wrote.
In the following pic, McKinley was caught on one knee while putting the ring on Porsha, as she couldn't contain her happiness.
"Matter of fact I said HELL YESSSS lol !! Love you baby #DM I'm ready for the rest of our life!" she wrote in a separate post where, surrounded by candles and petals, the couple posed side by side, with Porsha rocking a fuchsia dress that enhanced her baby bump and holding a bouquet of red roses in one arm.
Williams's representative gave People exclusive details about the proposal, stating that McKinley had been planning it for two months and that he rented a unique venue in Atlanta to surprise Porsha, and they arrived on a helicopter.
The rep said:
"After they were officially engaged, they threw a Prayer party for Baby McKinley. She doesn't want any focus on the ring etc. but it's huge and gorgeous! Dennis had videographer & photographer and has been working on the proposal for two months….had candles, etc. and rose petals everywhere."
FIRST MCKINLEY BABY
Porsha, 37, announced her baby news just a few weeks ago, and she couldn't be more ecstatic about it. She revealed that after suffering a miscarriage six years ago, having a healthy pregnancy was a dream come true.
"Going into the first appointment and being able to see baby and hear baby and know that baby is fine, then I can really wrap my mind around actually becoming a mommy," she stated.
Besides, is the first baby for both Porsha and Dennis, and she's excited to share this new chapter in her life with the man, whom she has known for years but only started dating the first half of 2018.
She said:
"The thought of me getting that blessing after praying for it for so long and getting that blessing with someone who is just as excited as me — it's Dennis' first child, just like me — and it's something we've both always wanted. … It's like a dream come true."
The "Dish-Nation" co-host gave McKinley the news on his birthday last July, something she described as hard because she had to wait a few days after finding out herself. And while the pregnancy was not planned, it has only strengthened the couple's bond, as Porsha revealed:
"The pregnancy came from the left, but it definitely has brought us closer together because you realize when it sets in that you are actually bringing a life to this world, that you have become family overnight. So now a lot of the things that we had talked about are a reality, and we work really hard at wanting to be a good couple and build a strong foundation for our new family that we're going to have."
BOY OR GIRL?
In her interview with people, Porsha said they don't know the sex of the baby yet, but some eagled eyes fans recently caught a comment she made on Instagram that may have hinted she's having a girl.
Last Friday, Williams commented on an Instagram of four baby girls sleeping in a hair salon, writing that she couldn't wait for her little one to join in the fun.
"Omg I wish my baby was out!! I would have her right there getting done up lol," she wrote, which fans took as a clear sign that she has a girl on the way.
However, earlier that same week Porsha revealed to Bravo's the Daily Dish that she felt she's having a boy for the way in which the baby kept moving. "Today, the way the baby was jumping and doing, like, aerobics, probably in there doing... Crossfit, it's probably a boy," she stated.
Porsha's fans are excited for the baby either way and now that the reality star is getting married, we're sure the next season of "Real Housewives of Atlanta" is going to be filled with special occasions, babies and happiness.
Please fill in your e-mail so we can share with you our top stories!