Brave rescuers spend nearly 28 hours getting huge whale back in the water (video)
A humpback whale got stranded on an Argentina beach about 200 miles south of Buenos Aires. Over two dozen people were determined to assist the whale in getting back, but it took several hours.
According to Inside Edition, around 30 persons put in great effort to try and return the whale to the ocean near Mar Del Tuyu, a resort town. They dug trenches beneath the whale while a crane was used to dislodge it. 
However, by that point, the Megaptera novaeangliae whale was experiencing fatigue and so it didn't work. The poor creature was constantly being pushed towards the shore by the waves. 
Follow us on Twitter for more @amomama_usa.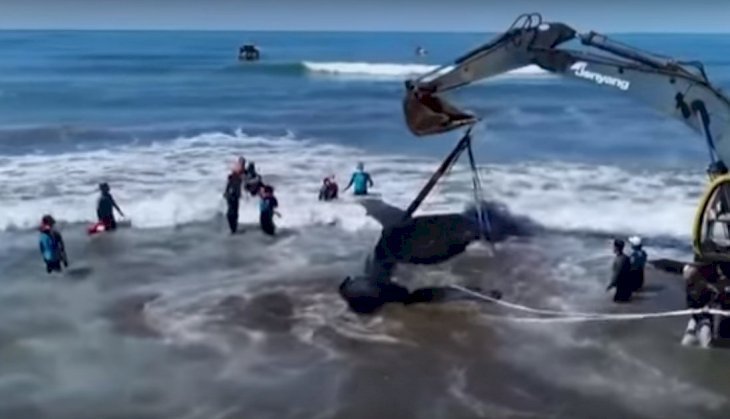 Then the rescuers attached a harness to the massive animal and pulled it out to sea using a tugboat. Incredibly, that did the job and the whale was at last back in its natural habitat safely.
The Mundo Marina (Marine World) foundation shared the heartwarming story. In the end, the many volunteers waved goodbye to their new friend and wished it all the best.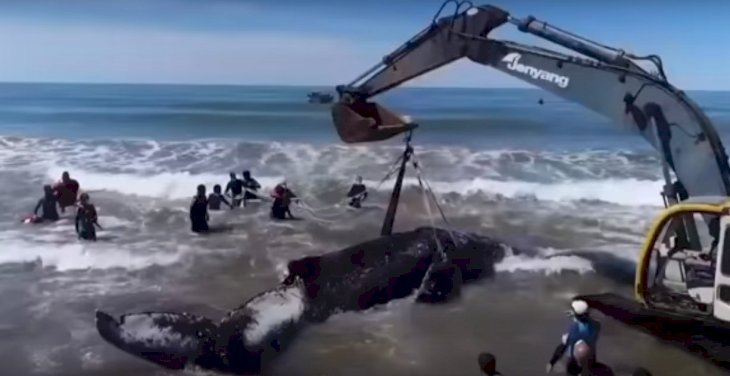 Among the rescuers were the Argentinian Navy, Civil Protection officers, lifeguards, and volunteers. Muno Marino biologist Karina Alvarez said: 
"When we arrived the whale was stranded on the shore. We tried to push it back to the water, but we failed."
She described what happened after the digger was brought out:  
"With a lot of effort, we managed to make it face the sea and with water enough so it could float, but even if the whale floated, it did not react when it got the chance of moving its fins and tail."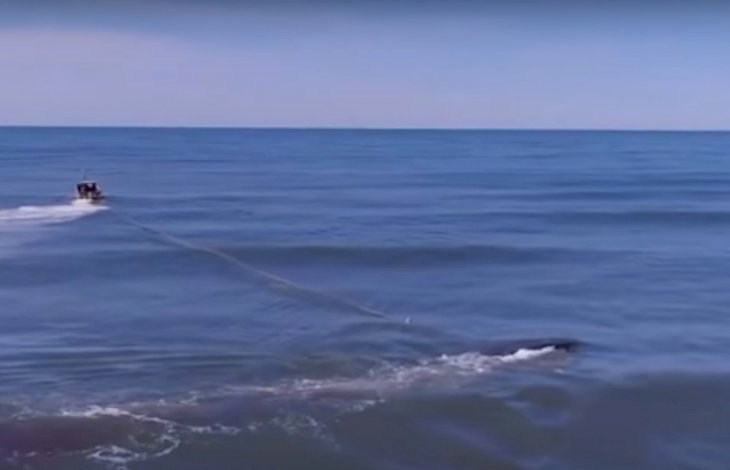 The rescuers were forced to take the night off due to safety protocols, but they went back the next morning and finally had success. 
Whales are thought to run themselves aground to dry land for several reasons including losing their sense of direction. 
The majestic animals are theorized to make navigational errors around "very shallow areas with gentle sloping, often sandy, seabeds," according to Peter Evans, a Bangor University lecturer, and cetacean scholar.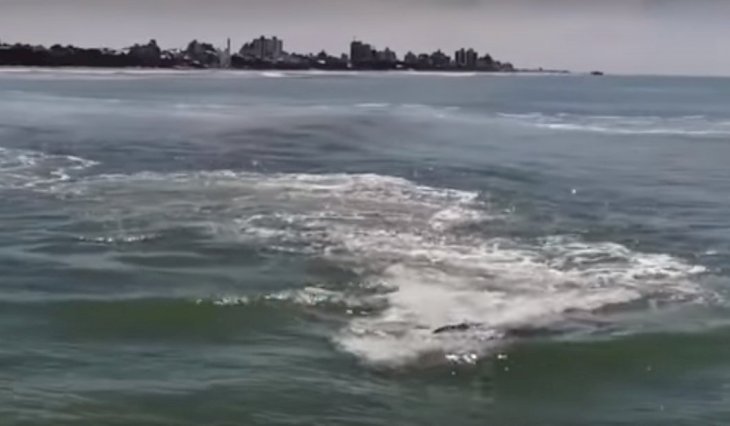 In these environs, their echolocation does not work as well. So they may follow valuable prey resource there, find themselves lost and unable to return to deep waters.
Another reason for getting stranded might be due to injuries or illnesses. When injured, the whale goes to shallow waters so resurfacing for air will be easier. 
Source: YouTube/ Inside Edition
Thereafter, the water may prove too shallow to move out of. Whales may also be injured by man-made materials like plastics and fishing nets.
An Alaskan fisherman captured a rare site of several whales as they swam up next to his boat to feed. 
Source: YouTube/ Brad Rich 
The man, named Brad Rich, was unsuspectingly taken by surprise when over ten whales breached the water very near his boat. 
Amazed but clearly frightened by the dangerous sea creatures, Rich exclaimed that he "just [expletive] himself" as he moved away from the area.