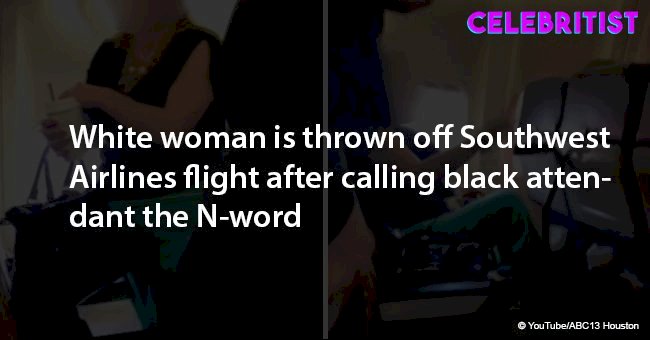 White woman is thrown off Southwest Airlines flight after calling black attendant the N-word

A passenger of a Southwest Airlines flight used racial slurs against the flight attendant minutes before the plane departed, so she was kicked out of it.
As ABC 13 reported, the flight, traveling from Chicago to Houston, was delayed for several minutes because of a woman's behavior and misconduct. One of the flight attendants, who is black, was walking through the plane asking passengers to get ready for the flight as they were about to take off.
Some of the most common requests plane staff ask the passengers are to pull up trail tables and fasten their seatbelts. However, the aggressive lady lost her temper when she was asked to put her table up.
Witnesses revealed that she started calling the flight attendant the N-word while trying to embarrass them.
KICKING HER OUT
Minutes later, the woman was asked to leave the flight. A video that another passenger recorded showed how the woman kept insulting while walking out of the plane.
Even though the woman said "Sorry guys!" while leaving, the rest of the passengers couldn't help but cheer, celebrating that she was being kicked out. Fox News pointed out that members of the law enforcement were at the gate waiting for her.
RELEASING A STATEMENT
Later, Southwest Airlines released a statement to address the situation, explaining that the customer, who was not identified, refused to comply with the instructions of the flight crew.
"The customer became unruly and verbally abusive toward our flight attendants, and the decision was made to return to the gate to deplane the Customer, where she was met by local law enforcement officers."
PRAISING THE STAFF
Finally, the airline admitted that the employees handled the situation in the best possible way and that they didn't condone or tolerate such "profane and unruly behavior" while in their aircraft. Due to the uncomfortable situation, the flight was delayed for about one hour. The woman has not been charged yet, revealed ABC 13.
RECORDING A KIND FLIGHT ATTENDANT
While there might be people who don't appreciate the job that flight attendants do, some others, like Rachel Yuen, even record them when they help their passengers.
In the video that Yuen uploaded to Facebook, a female flight attendant appeared rocking a boy while walking up and down the aisle to try to calm him down as he had been crying for about 45 minutes. The baby stopped crying, and the flight attendant became the "hero" of the flight.
Please fill in your e-mail so we can share with you our top stories!