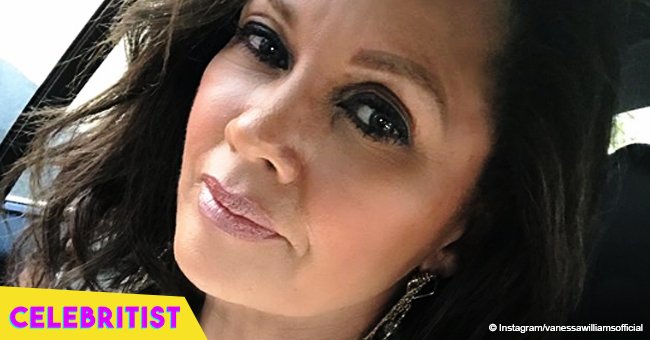 Vanessa Williams melts hearts with picture of her 3 look-alike daughters
Vanessa Williams is the proud mom of three gorgeous, grown women, and she's gushing about them in a recent Instagram post.
Melanie, Jillian, and Sasha inherited their mom's strong facial features, but only one got the passion for music in her veins.
The former Miss America took to her Instagram account to celebrate National Daughters' day with a heartwarming photo of her three girls: Melanie, 31, Jillian, 29, and Sasha, 18.
In the pic, the three siblings seem to have been enjoying a dinner night with their mom, as they're sitting around a table in a luxurious restaurant.
Melanie donned a white coat with a black top underneath, Sasha went for a sleeveless black dress and Jillian rocked a grey top.
The three girls gave the camera a bright smile, basking in the joy of being together.
Williams captioned the photo:
"#nationaldaughtersday Melanie, Sasha, Jillian. I am so proud to have had the privilege of bringing such fine young women into this world. Stay strong, grateful and true. #daughters #blessings."
MEET THE GIRLS
Melanie and Jillian are the product of Vanessa' first marriage to Ramon Hervey, while she shares Sasha with retired basketball player Rick Fox.
Talking about her daughters and the striking difference among them, Williams told CNN in an interview back in 2015 that:
"I am lucky to have three daughters who are completely different. I look at my daughters, and I have different relationships with all three, and there are parts of each personality that are very special. I rely on them for their particular qualities, but I feel happy that I have three completely different opportunities to make my mommy-daughter relationship different."
While Melanie had a brief career in Hollywood, she's now living away from the spotlight.
Sasha recently graduated from high school and moved into her dorm in college at Chapman University last month. She tried modeling but lives like an average teenager for the most part.
A SECOND GENERATION STAR
Jillian, on the other hand, inherited her mother's talent and passion for music.
Better known as the vocalist of the group Lion Babe, Hervey has a steady career in the music industry and has collaborated with artist like Pharrell and Childish Gambino.
She recently performed at Coachella, earning the praise of critics, both in music and in fashion, for her incredible stage presence and flashy outfits.
Jillian already graced the covers of several magazines and joined her mother in a partnership with the WomenHeart organization and Burlington Stores to raise awareness and prevention for heart disease.
LEARNING FROM MOM
While Jillian has been open about wanting to shine on her own without people continually comparing her to Vanessa, she also revealed in an interview for Essence magazine that she had learned a lot from the former Miss America.
"My mom's taught me so much about being a woman. A lot of the things that I've learned most is just by example," she added.
"I've seen how she treats people. She's on time, she's respectful, she's very humble, and she understands what other people have to do and their roles, and I think just having that understanding and treating people how she would treat herself and her family, I think that just speaks volumes."
There's no doubt that Vanessa did a great job as a mom, and all of her three daughters continue to make her proud on their own accord.
Please fill in your e-mail so we can share with you our top stories!