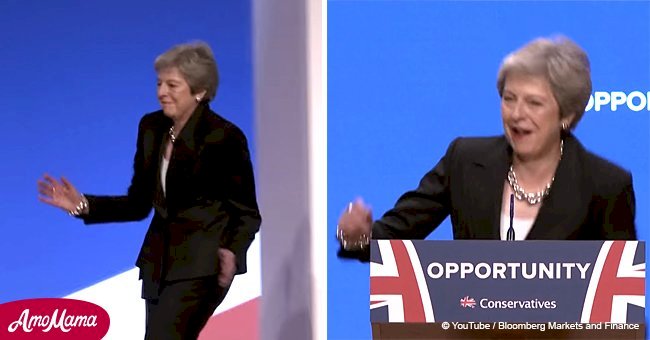 'Dancing Queen' Theresa May bursts the Internet with her moving to an ABBA song
U.K Prime Minister Theresa May walk onto the stage at the Conservative Party's annual conference to the beat of "Dancing Queen."
Even though her husband and close aides were unaware of her plans, the crowd gathered at Birghimham cheered and clapped. Her aides said:
"None of us – including Philip – knew she was going to do that as she walked on stage."
Read more on our Twitter account, @amomama_usa. May's boogie ways were caught on camera, and the short video clip can be seen below.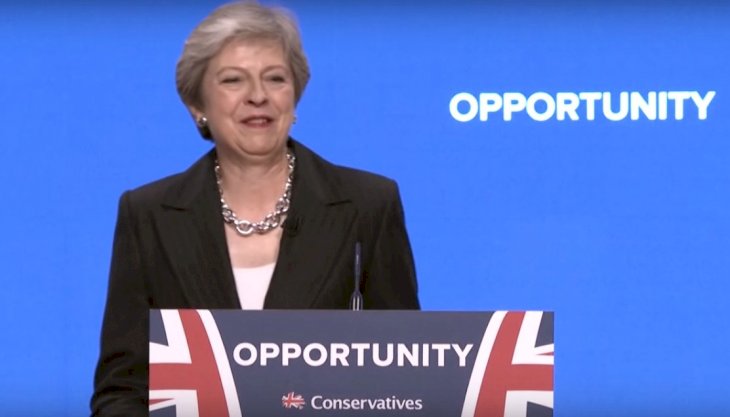 Source: YouTube/Bloomberg Markets and Finance
While many were surprised at her dance moves, it's not surprising considering her determination and sense of humor.
During her speech, May made fun of the blunders that befell her during last year's conference when she had a coughing fit and the signage behind her fell off.

Source: Twitter/ITV News
She said this year: "Can I just say, you will have to excuse me if I cough during the speech. I've been up all night supergluing the backdrop."
It's also not her first time dancing in public; she made headlines back in August and had a new dance move coined after her.
May visited Cape Town, South Africa, where she attended the "Maybot" move, but her performance left much to be desired.
Netizens took to Twitter, with one user asking, "why God, Why?" while another wanted to know if "someone forgot to oil her."
Without letting the criticism get to her, May dryly remarked that her dancing "might not make it to Strictly [Come Dancing.]"
The students enjoyed her moves and May made a scholarship available to more than 100 African students. Read the full account here.
She certainly isn't the only politician prone to break out in dance, and many will recall President Donald Trump's awkward dance moves from two years ago.
His song of choice was Ben E. King's "Stand By Me," and he sang along too. At one point he changed the words to "Donald, Donald, stand by me."
Many of his Republicans dinner guests at Mar-a-Logo didn't see that coming and were caught on camera looking bemused.
Please fill in your e-mail so we can share with you our top stories!