Reporter stood next to a skyscraper just as a huge pane of glass fell from it
An on-camera reporter nearly became part of the news when a slab of glass narrowly missed hitting him during a typhoon. 
TV Reporter He Chong was commenting on the developing Typhoon Mangkhut for the Guangdong Television network when the gale force winds tore a large pane of glass loose from the 22nd floor of a skyscraper and sent it hurtling down to where he was standing.
His cameraman captured the moment and the video was posted on Facebook by Newsflare.
Panes of glass fall from high-rise buildings in Guangzhou city, as Typhoon Mangkhut moves toward mainland China.

The city has issued its highest typhoon emergency alert, according to state-run media. More than 100,000 people have been evacuated. https://t.co/4lp3zkEa0W pic.twitter.com/0ifHihFPBw

— CNN (@CNN) September 16, 2018
A FRIGHTENING MOMENT WHEN IT SEEMED THE SKY WAS FALLING
Chong was reporting on the typhoon which had made landfall in China on September 16 and was wrecking havoc in Shenzhen City.
The reporter, wearing a raincoat and huddled against the pouring rain and driving wind, was reporting on the damages when a pane of glass sheered off the facade of the China Development Bank Tower.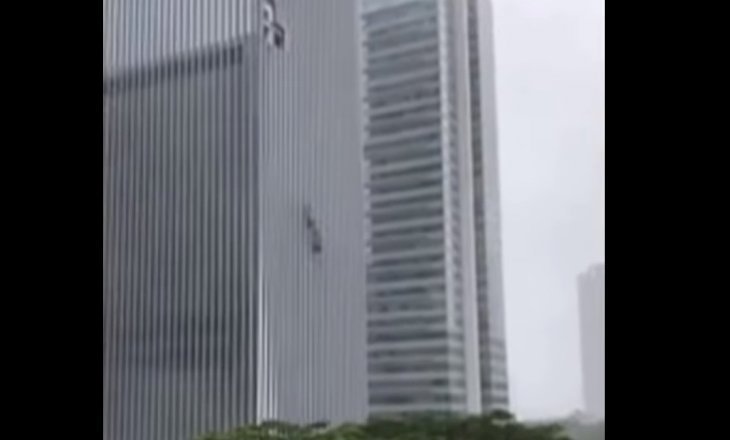 HE LITERALLY JUMPED OUT OF HIS SKIN
Chong was delivering a piece-to-camera when the pane of glass fell behind him, and he jumped with fright at the sound of the shattering glass,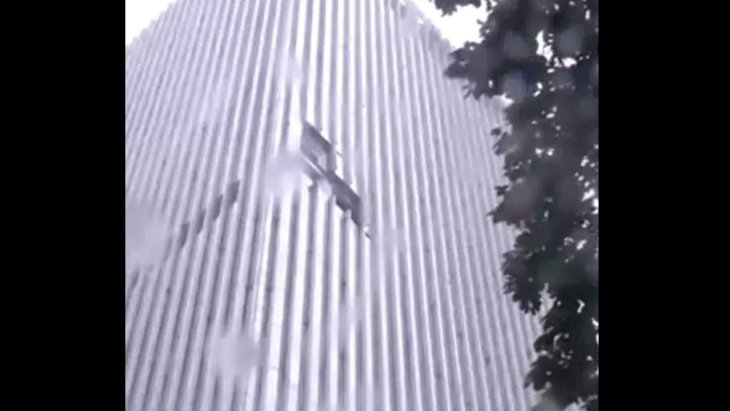 A PERFECT STORM LAYING WASTE SHENZHEN CITY AND HONG KONG
Typhoon Mangkhut hit the two cities particularly hard, with Hong Kong witnessed one of the strongest storms to ever hit the city in recorded history.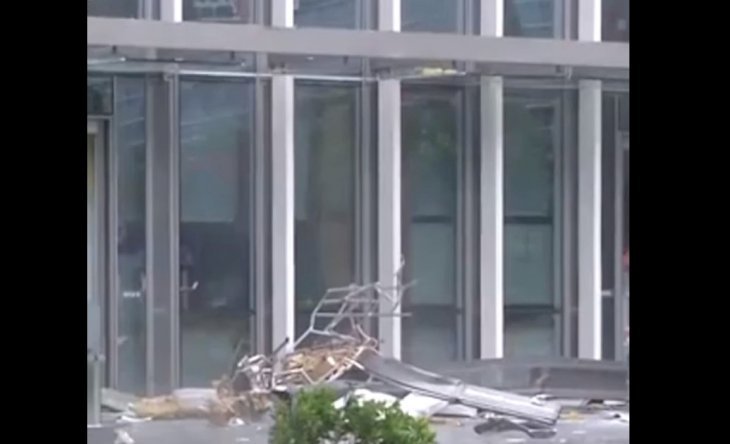 HONG KONG'S DAZZLING CITY SCAPE BATTERED AND BROKEN BY STORM
Hong Kong, which has always been one of the most sophisticated cities in the world and a jewel in China's crown is devastated, with buildings crumbling under the scourge of the vicious winds and the torrential rain.
RESIDENTS FACED APPLIANCES GOING WILD AS POWER SURGES AFFECTED THE GRID
Hong Kong residents were horrified to find their household appliances switching on and off as surges of electrical power overwhelmed the city's grid. Others watched as water fountained out of their toilets as it was pushed out by flooding in the city drains.
City officials foresee a long road back to recovery for the city and the local economy, as businesses and residents face the financial losses due to the damages caused by the typhoon.
In a related story, a huge glass window crashed to the ground after falling 500ft from a Moscow skyscraper when workers installing the glass lost control of it.
The glass window was being installed 47 floors up when the incident occurred. The window pane smashed into the tower as it fell and damaged the facade, but fortunately, no injuries were reported.