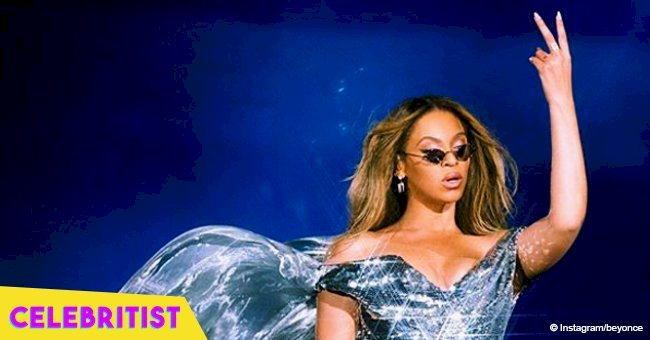 Beyoncé hits the stage in metallic catsuit with flowing cape during concert with Jay Z
Singer and actress Beyoncé took to Instagram to share a photo showing herself wearing a fantastic metallic catsuit for her latest show next to her husband.
In the photo, the star appeared wearing the shiny, form-fitted catsuit that had a long cape that looked like two wings on her back. Apart from that, she was wearing a pair of tiny black sunglasses while rocking her beautiful, loose hair.
Even though Beyoncé didn't write anything for the caption, it was evident that the photo was taken during one of the most recent concerts of her "On the Run II" tour.
Jay-Z and Beyoncé have spent the last three months traveling and performing in different cities with the previously mentioned tour which started on June 6 in Cardiff, Wales, and is expected to finish on October 4 in Seattle.
PEOPLE'S REACTION
As soon as Beyoncé uploaded that photo, her followers took to the comment section to share their thoughts. One of them pointed out that it was just a picture of the star looking like a Goddess, as usual.
Daily Mail reported that the concert where "Queen Bey" wore that beautiful ensemble was in Santa Clara, California, at the Live's Stadium. Vivienne Westwood designed the customized outfit.
GIVING AWAY A SCHOLARSHIP
During the concert the couple threw in Glendale, Arizona, they gave away a $100,000 college scholarship for one of the members of the audience who never expected to get it. It went to 17-year-old Mikayla Lowry.
Before the show began, DJ Khaled, who has been opening the Carters' American shows, got onstage to announce that one member of the crowd would receive a scholarship for their college studies.
SHE DIDN'T BELIEVE IT
The cameras went directly to the Boys & Girls Club, where Mikayla and the rest of her friends were enjoying the concert. DJ Khaled was sharing some details little by little, but the girl never thought she was the person he was describing.
When everybody heard that the winner of the scholarship was a future marine biologist and BGCMP's Torch Club president and Keystone vice-president, her friends knew he was talking about Mikayla.
She was not sure about it, though, and it wasn't until DJ Khaled said her name that she was shocked by the wonderful news. Mikayla admitted that she couldn't believe it and that she was not expecting such a surprise.
Please fill in your e-mail so we can share with you our top stories!