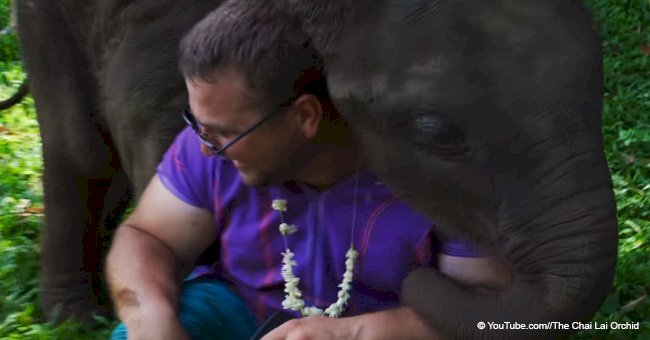 Heartwarming moment baby elephant can't stop embracing tourists
Elephants are well-known as surprisingly intelligent animals who know what they want. And all this baby elephant wanted was lots of hugs and play.
Andrew Malcolm captured the elephant calf as it galavanted around and purposefully fell onto amused tourists in an elephant sanctuary in Chiang Mai, Thailand.
Reported by Unilad, Malcolm said:
"Baby elephant Suki frolics with travelers and mahouts at an elephant camp in Chiang Mai, Thailand. Next level travel goals are being met left right and center for guests of the Chai Lai Orchid, the only Airbnb where you can actually live with elephants. Look no further for meaningful elephant adventures!"
Follow us on Twitter for more @amomama_usa.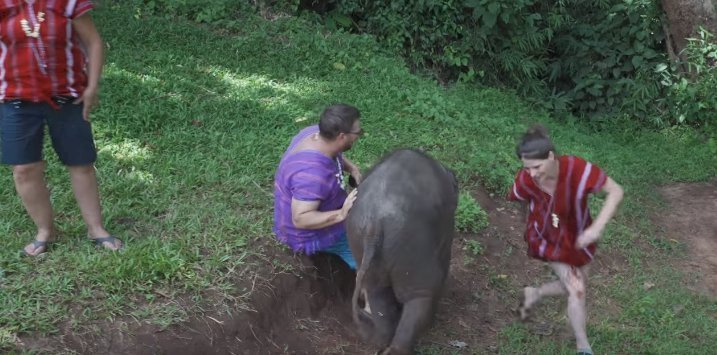 Source: YouTube/ The Chai Lai Orchid
The hilarious moment certainly made us all want to experience the affectionate cuddles from young Suki.
And it's all for a good cause. The elephant sanctuary helps rescue elephants in need and also work towards stopping human cruelty of various kinds.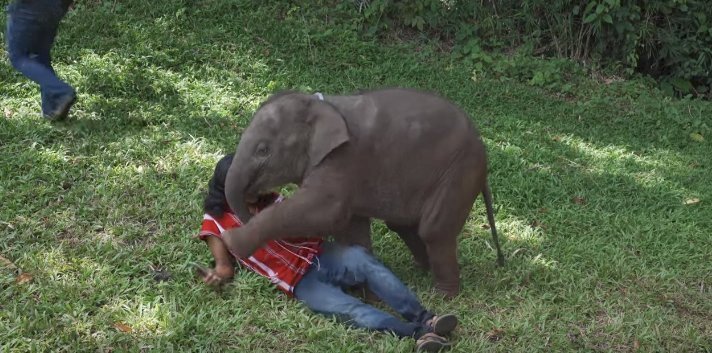 Source: YouTube/ The Chai Lai Orchid
Although they're just babies, the size and weight of a calf should not be underestimated. The adorable animals usually weigh around 250 pounds just after birth.
Like humans, they also can't see very well after just being born. They differentiate others by touch, scent, and sound.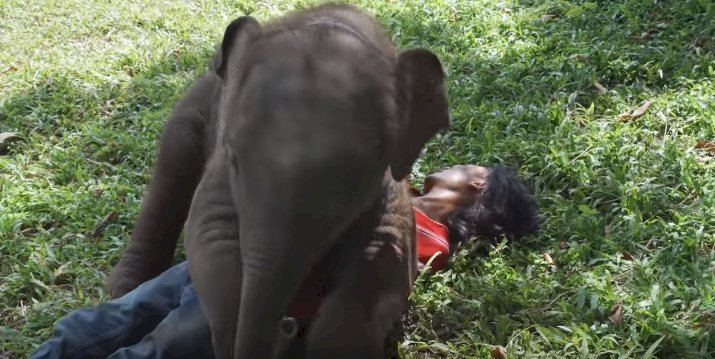 Source: YouTube/ The Chai Lai Orchid
Again, similar to human babies, calves have to remain close to their mothers just after birth, at least two months. They consume their mother's milk up to around two years old or longer.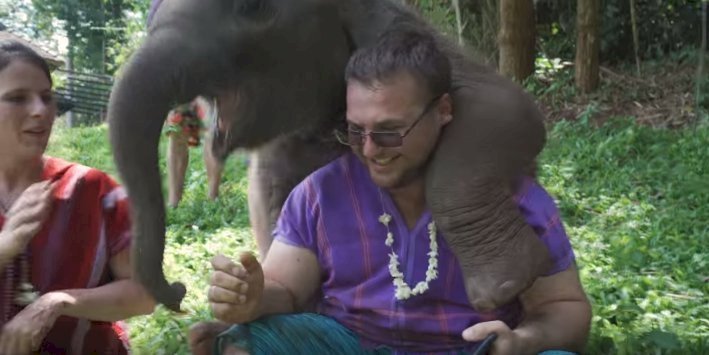 Source: YouTube/ The Chai Lai Orchid
They start consuming plants at around four months, but still need as much milk as before. Hence, they may continue taking in the milk for up to ten years.
Baby elephants really are a lot like us. They sometimes suck on their trunk as human babies suck on their thumb. They don't know what to do with it.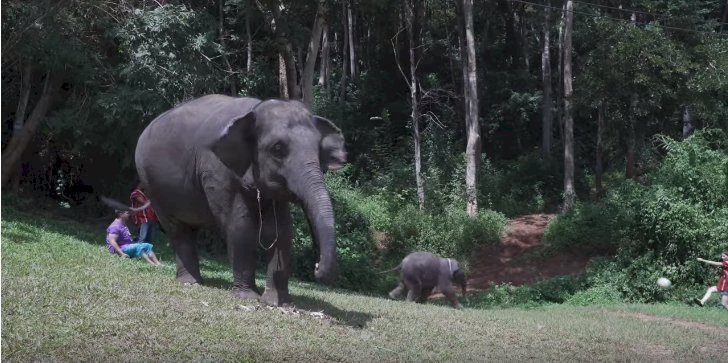 Source: YouTube/ The Chai Lai Orchid
Meanwhile, back in 2016, one baby elephant showed his indebtedness to his rescuer by trying to save the man as he appeared to be drowning.
Source: YouTube/ The Chai Lai Orchid
Darrick Thompson, the co-founder of the foundation responsible for the wellbeing of elephants living in the Elephant Nature Park in Chiang Mai, Thailand, held a special bond with the elephant named Kham Lha.
In the clip, Thompson called Kham Lha to join him in playing in the water, but Kham Lha mistook it as a call for help and rushed in to try and "rescue" her friend.
Source: YouTube/ ViralHog
Kham La, who is the youngest of the pack, showed everyone just how sincere and appreciative animals can be when we show them kindness.
Please fill in your e-mail so we can share with you our top stories!