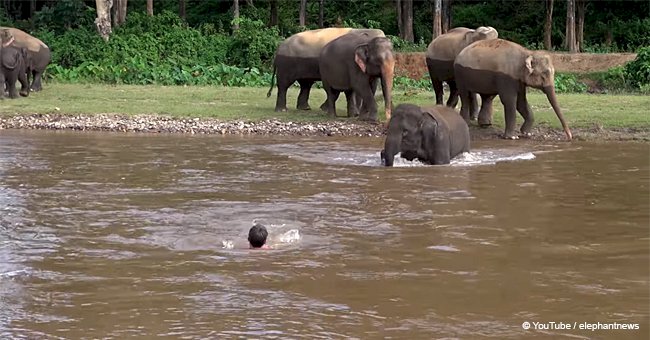 Baby elephant notices man 'sinking' in a river and his unexpected reaction goes viral
A man put a group of rescued elephants to test when he got inside a river and appeared to be drowning, and the youngest animal of the group proved how much they care about humans who have been kind to them.
The video of the heartwarming event was uploaded to the "elephantnews" channel on YouTube on October 12, 2016, and it soon became a viral sensation. To this date, it has received more than 12 million views.
Animal advocate Darrick Thompson, co-founder of the foundation responsible for the wellbeing of elephants who have been rescued and live in the protected area of the Elephant Nature Park in Chiang Mai, Thailand, was the man in the water.
According to the video description, there is actually a special bond between Thompson and the young elephant who "saved" him from drowning, named Kham Lha. Read more on our Twitter account @amomama_usa
The story of Thompson and Kham Lha's friendship is an example of the thankfulness of these animals that can clearly remember who has being good to them and will do anything they can to return the favor.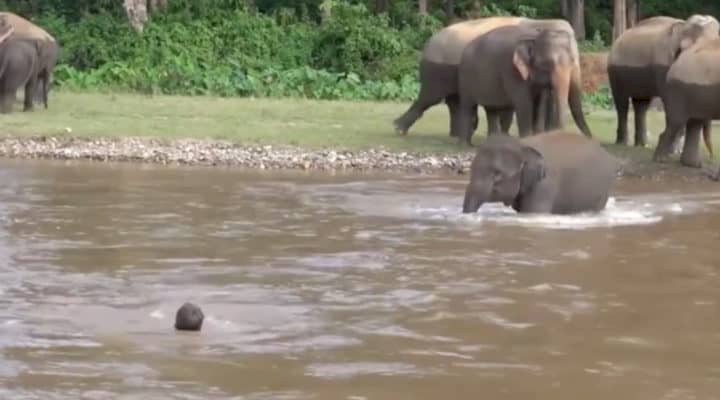 Source: Youtube/elephantworld
Readers Portal Today reported that Thompson was not really in peril. Apparently, Thompson was just calling Kham Lha to join him at the shore, and the young elephant mistook this for a call for help.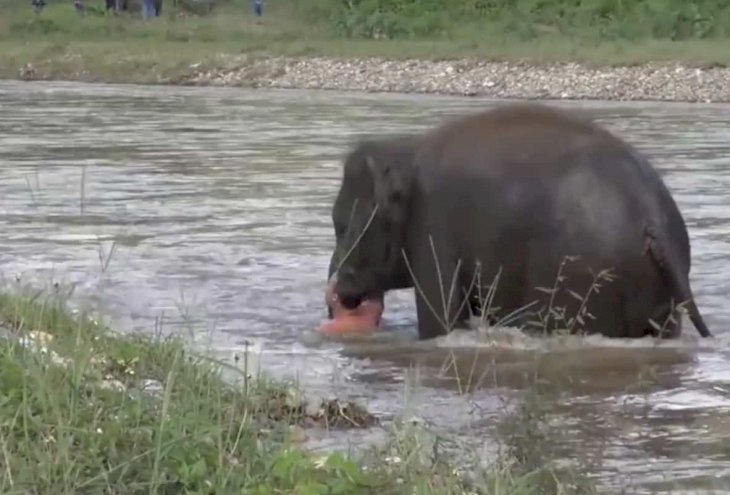 Source: Youtube/elephantnews
Convinced that her friend and savior's life was at risk, the animal rushed to the water to protect the man from the current with her own body and to offer her trunk as support to help him walk out of his situation.

Source: Youtube/elephantnews
The source shared that Thompson helped Kham La and her mother Bai Teoy in 2015, and he spent time with the traumatized young elephant to help her heal her emotional wounds, which turn the two into friends.
"Since he rescued Kham La, he spent time to heal from the mental [anguish] and has shown love to her. No longer after that, she [made a] strong bond with him and accepted him to be part of her herd," a member of Save Elephant Foundation said.
-Elephant Nature Park's staff member, CNN, October 17, 2016.
It doesn't take a dear friend in apparent trouble to make an elephant show its love for some humans, as it is evident in another viral video that shows a baby elephant who can't resist from cuddling a tourist in the same sanctuary in Thailand.
We all know that baby elephants are hard to resist, but this time it was the cute little animal who was so interested in a female tourist that was delighted with the attention.
Let's hope all this examples of loving and caring interaction between elephants and people helps change the way our species treats these majestic and gentle giants.
Please fill in your e-mail so we can share with you our top stories!