Cute baby elephant simply can't stop cuddling a giggling tourist (video)
An American tourist couldn't stop her giggles while she was showered with love and cuddled by baby elephant Suki. 
A video shared by ViralHog on YouTube shows the moment baby Suki, the newest elephant to be born at Chai Lai Orchid, cuddles and roles around with the female tourist, on August 7, 2018. 
Chai Lai Orchid is a sanctuary based in Chiang Mai, Thailand, which rescues elephants.
Read more on our Twitter account @amomama_usa.
By watching Suki, it becomes apparent that she has an abundance of energy. She played with the tourist without getting tired. 
In the video, the calf tries to push her trunk on towards the visitor and tries to get a hold of her, but it doesn't work. 
The adorable baby elephant then lifts one leg and places it on the woman's back, forcing her to roll over and then falls on top of her.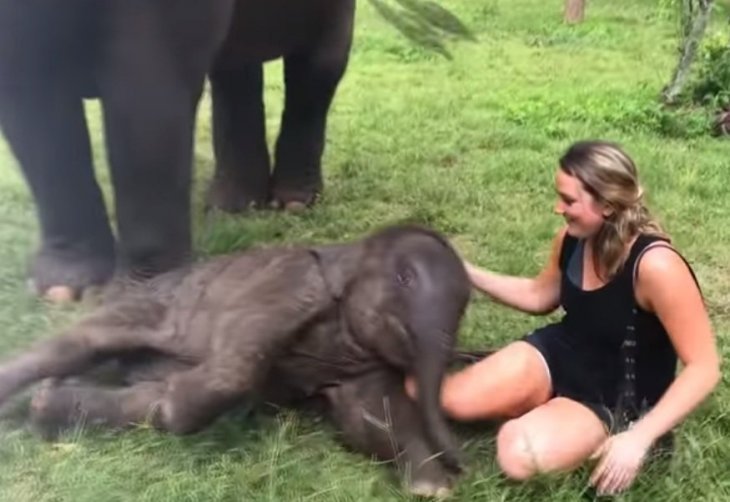 She appears to be having a lot of fun because of the amusing behavior of the little elephant and is seen giggling hard and is barely able to form any words. 
The video then moves to where the pair are seen sitting near Suki's mother, who is standing and eating her grass, unbothered by her baby's mischievousness. 
A friend of the tourist then joins the two new friends, and the video ends with the two tourists starting to stroke little Suki.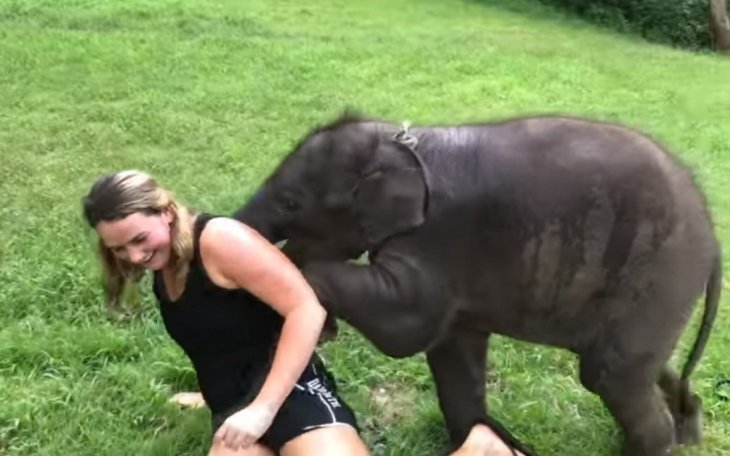 The Chai Lai Orchid sanctuary assured viewers by explaining that "no humans were harmed in the making of the video."
Suki is the daughter of Mae Noi and Som Chai and she born after the almost two years of waiting and has an older sister named Chai Lai.
Suki was born in July 2018 and her mahout, Ling Ling, had many sleepless nights after her birth, providing continuous care to both the mother and baby, according to Chai Lai Orchid. 
The Chai Lai Orchid is an eco-lodge where tourists can stay and support the sanctuary's mission of rescuing elephants and fighting against human trafficking.
Another elephant in Thailand, Faamai, has grown close to its human friend. She goes to sleep only after Sangduen "Lek" Chailert, the founder of Save Elephant Foundation, sings a lullaby.
The sweet human-elephant friendship is seen at the Elephant Nature Park in Chiang Mai.
South Africa's Thula Thula Rhino Orphanage provides a haven for rhinos, buffaloes, leopards, zebras, crocodiles, and elephants.
An inmate, Ellie the Elephant, was critically ill and rejected by his herd. However, with a special friendship, he was able to form with a German shepherd, Duma, he had a renewed interest in life.