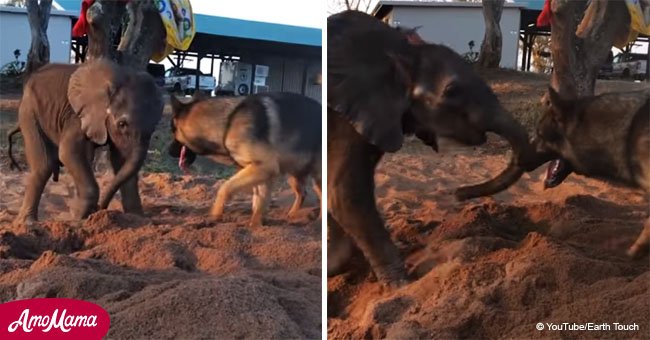 How an abandoned baby elephant and a German Shepherd became best friends
An abandoned elephant, Ellie, who was taken in by Thula Thula Rhino Orphanage, had a renewed interest in life after befriending a German shepherd.
Earth Touch took to YouTube to share the news on January 14, 2016, of Duma helping the baby elephant on his way to recovery.
The Thula Thula Rhino Orphanage in South Africa houses rhinos, elephants, buffalo, leopards, giraffes, zebras, hyenas, crocodiles, among other animals.
When little Ellie arrived at the game reserve, he was critically ill and rejected by his herd. With an umbilical hernia, his chances of survival were slim but he made it through with the help of staff and a special canine companion.
Initially, his rescuers thought the elephant would not survive for too long, yet they nursed him. Ellie's physical health improved drastically but his mental health did not.
Elephants are social animals which makes it hard to raise them away from a herd. Ellie was depressed and lethargic until he met his friend, Duma. The dog and the elephant became good friends despite the many differences.
Karen Trendler, a rehabilitation and crisis response expert, said that Ellie's interaction with the German shepherd helped him get back on his feet.
"We introduced Duma to the elephant at the sand pile and it immediately cheered the elephant up. It had a massive impact on Ellie in that he suddenly had a bit of interest in life again."
Karen Trendler, Earth Touch, January 14, 2016.
Over the next few weeks, the two grew closer and developed a special bond. The two with completely different behaviors were playing with each other. Duma even became increasingly protective of his friend.
The elephant was abandoned by his herd for reasons best known to them. The center then made several attempts to reunite them but was unsuccessful.
The organization had found Ellie with an abscess on his belly button area "which meant it was effectively open. Trendler said that it was infected and there was a direct connection into his blood supply. She added that in most cases, it is fatal.
The staff has decided to find another herd for the little elephant. They hoped they could integrate him into an existing herd, or start a new one with all the abandoned elephants.
Read more on our Twitter account @amomama_usa.
Please fill in your e-mail so we can share with you our top stories!