Carrie Underwood invites a little boy with Tourette syndrome on stage to sing with her
Carrie Underwood granted the wish of a little boy with Tourette syndrome and invited him on stage to sing with her.
The country singer was singing her hit song, "Little Toy Guns," at the US Bank Arena in Cincinnati when she spotted the young boy amongst the crowd.
11-year-old Connor, a boy with Tourette syndrome, was holding up a sign that caught Underwood's attention and asked him to come up the stage.
Although Connor was shy, he was thrilled to be standing next to his idol in front of thousands of people.
Follow us on Twitter at @amomama_usa for more details and updates.
While on stage, Underwood crouched down and sweetly handed Connor the microphone.
He was hesitant to sing at first, but he eventually sang the words of his favorite song with his idol right by his side.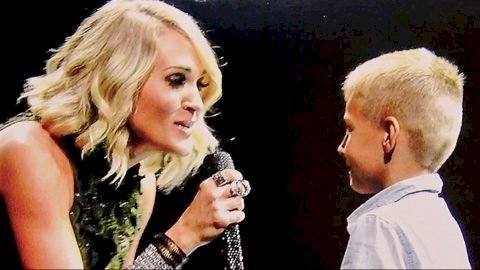 A news reporter in the crowd captured the special moment on video and shared it on social media. Since then, the touching video has become viral.
It wasn't the boy's first time to be up close a country star. For every concert he's been to, he'd bring a sign that would ask the star to let him come up the stag.
He had the chance to meet stars like Brad Paisley and Luke Bryan. Naturally, Underwood was next on the list.
Speaking with WKRC-TV, Connor's mother revealed that her son had been a big Underwood fan. She also shared that Underwood's "Little Toy Guns" is very special to Connor.
According to her, the song "hits home" for Connor "because he wishes no one would ever get hurt."
Connor supposedly had been depending on Underwood's music for comfort. His mother said that "country music is like medicine to him."
As for Underwood, her sweetness with Connor reflects what she is like as a mother to her son.
Now that she's expecting for baby number two, she had been explaining to her three-year-old son, Isaiah, the concept of having a sibling.
Previously, she opened up about her pregnancy and Isaiah in an interview with Jimmy Fallon.