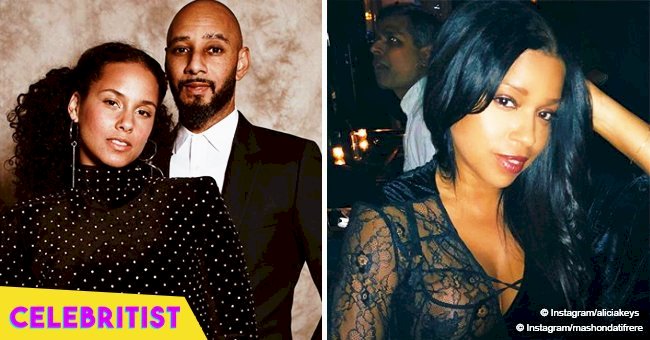 Alicia Keys is all smiles in video with with husband Swizz Beatz and his ex-wife Mashonda
Alicia Keys and her husband Swizz Beats post a video together with his ex-wife Mashonda. The three promote Mashonda's new book based on their experiences and issues as parents.
Well-known singer Alicia Keys just posted a video on her Instagram with her husband, Swizz Beats, and his ex-wife, Mashonda to promote her latest book, Blend. Through the caption, Alicia shared:
"Our family is a beautiful example that families can blend and coexist in LOVE!! And now the @theblendbook written by my golden girl @mashondatifere is in the world to share the blueprint of how it works!!! Congratulations to us @mashondatifrere & @therealswizz !!!!!!! We are living it!! Everybody read it and love it!! (check my story)."
Alicia Keys and her husband Swizz beats have come together to support his ex-wife Mashonda in her new book. The three have outgrown their past issues and matured to be civil and good friends, mostly for the sake of the children of Mashonda – and this is exactly what Blend: The Secret to Co-Parenting and Creating a Balanced Family is all about. The book is mostly a guide for co-parenting based on Mashonda's own personal experience from her failed marriage to the struggles they have faced as a 'blended' family.
In a recent interview, Mashonda shared her opinion of the term "homewrecker" and said,
"I have never used that word once. It was not a word that I felt good about. You know, we had a lot of miscommunication in the beginning but we have worked through it. When I say 'worked through it', we have sat in tables together and discussed everything from the beginning up until where we are now and we do this often."
This question sprung from accusations that her fans have been calling Alicia Keys a "homewrecker", for allegedly ruining her marriage with the producer, Swizz Beatz. However, her new book is living proof that there is no bad blood among the three of them, and they have been co-parenting their children in the best way they can.
Mashonda also mentioned that a big factor, and probably the only one, why they had to solve their issues and act maturely, was for the children who were involved in their situation.
"When you have children and your children have questions and you can feel their energy changing based on the energy you're giving them […] if you're a good parent, you know you need to make a change."
The three, Alicia, Swizz Beats, and Mashonda have really set their priorities straight and put things aside for the benefit of their kids. The book is a 'blueprint' for those who are caught up in the same, or at least a similar situation. Certainly, her words of wisdom can help those alike to get through their tough situation and do what is best for those you love.
Please fill in your e-mail so we can share with you our top stories!