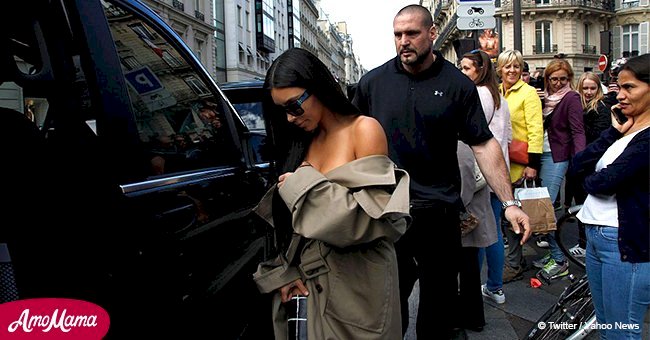 Kim Kardashian's bodyguard obliged to pay $6.1m over Paris robbery

Kim Kardashian West's former bodyguard Pascal Duvier is being faced with a lawsuit from Insurer AIG who covered the cost of the stolen jewelry back in October 2016.
According to BBC News, AIG filed the lawsuit in Delaware. The company is claiming that Duvier and his company, Protect Security, provided "negligent" protection to the star's private apartment.
The reality star was attending Paris Fashion Week when the attack occurred. She was faced with two men dressed up as police officers who bound her and robbed her at gunpoint two years ago.
Follow us on Twitter for more @amomama_usa.
During the horrific incident, Duvier was elsewhere guarding Kourtney Kardashian and Kendall Jenner as they went to a nightclub.
He is being sued for the same amount that AIG paid in insurance for the stolen items.
Kardashian West was left alone in her room. She later described the event:
"They grabbed me and took me into the hallway. They tied me up with plastic cables and taped my hands, then they put tape over my mouth and legs."
The men stole an estimated $10 million in cash and jewelry. A $4.49 million ring and a jewelry box holding $5.6 million were included.
TMZ also reported that the suit alleges several other breaches in security which should have been dealt with by Duvier prior to the robbery.
Namely, a front gate lock was missing or broken, and the intercom system on the door was also not fully functional.
Additionally, the men followed Kardashian West's Instagram to determine when she would be in Paris and what she would be holding on her.
The star had flaunted her 20-carat, Lorraine Schwartz-designed engagement ring on the "gram" just hours before they were stolen.
AIG also mentioned the lack of security training for the hotel's concierge, who was forced to unlock Kardashian's West door. However, neither the hotel nor the concierge's names were not in the lawsuit.
Duvier was fired a month after the jewelry raid after working with Kardashian West for four years.
Protect Security is believed to have worked for other celebrities such as Black Eyes Peas.
Kardashian West herself filed a lawsuit soon after the event against a website that claimed she had staged the Paris robbery.
However, the star dropped the case after MediaTakeoOut, the accused celebrity gossip site, issued an apology.
Meanwhile, the star has moved on as well as one might expect from the horrific event, even giving back to her nation and changing lives.
In June 2018, Kardashian West was successful in lobbying with President Donald Trump regarding a 63-year-old convict.
Alice Marie Johnson was in prison for 21 years for a non-violent drug conviction. Kardashian West took up her case and spoke to the president himself.
She was thrilled when Johnson was given clemency and free at last to live her life after the careless mistake of her past.
Please fill in your e-mail so we can share with you our top stories!