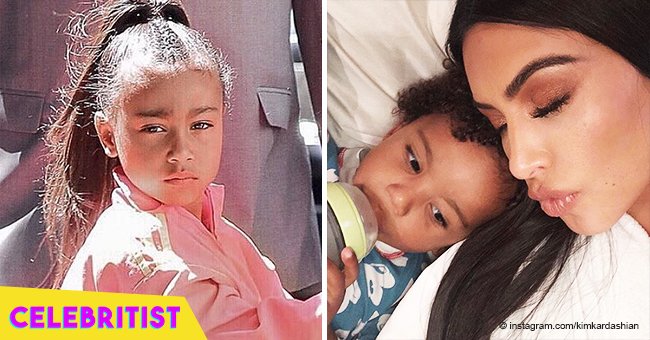 Kim Kardashian reveals daughter North wants brother Saint to 'leave me alone'

Kim Kardashian opens up about the friction between her children in her latest podcast interview. She reveals she's her son's best friend now that his older sister wants nothing to do with him.
Kim Kardashian is a mother-of-three but her daughter North seems to wish she was just a mother-of-one. During her recent interview with Ashley Graham's brand new podcast "Pretty Big Deal," the reality star shared a glimpse of North's only-child mindset.
"North acts like an only child at all times. I think she's a little confused," Kim reveals seeing how her five-year-old has an animosity towards her siblings, Saint, 2 ½ and Chicago, 8 months.
According to the celebrity mom, North is "beyond jealousy now" and just really wants to be left in her own world. In fact, she requested something from Kim so she can be left in peace.
"She said to me the other day, 'Mom … we just need to have another baby brother so that Saint can just leave me alone … so the girls can be on this side of the house and the boys can be on that side of the house.'"
North is particularly averse to her brother. According to her mom, she posted a sign outside her bedroom door saying "No boys allowed."
"She won't even let Saint step foot in her room. If he does or if he's with me and I have to take care of both of them … it's like full war."
With his sister shutting him out, Saint has been clingy with Kim which the doting mom appreciates.
"It's so funny, and he's just the nicest human being on the planet. Today he's like, 'Mom, you're my best friend' … so I tried to get him on video, so I was like, 'What did you say?' And he said, 'I love you so much, Mom.' I was like, 'Even better!'"
Kim is the first guest in Ashley's new podcast which the pretty big woman launched in order to share her powerful words with others. According to Ashley, she thought of the idea after realizing she was pretty and she was a big deal and she loved conversing with influential people.
"Throughout my teenage years and my career, I was often referred to as 'pretty for a big girl. When I started to realize how much power words can have, I thought to myself, I am pretty, and I am big. I'm a pretty big deal! I've had many deep and thoughtful conversations with incredible game changers whom I admire, which is why I decided to start this podcast so everyone can join in and discuss the topics that matter to us most with people who are pretty big deals."
Ashley was spot on when she invited Kim to be her first guest. Kim is a pretty big deal both as a celebrity, entrepreneur and even an advocate for changes. In June, she made headlines lobbying for the release of 63-year-old Alice Johnson who was serving life in prison for a first time drug offense. Kim met with President Donald Trump and negotiated Johnson's release. Her efforts proved fruitful as Johnson was released shortly after.
Please fill in your e-mail so we can share with you our top stories!