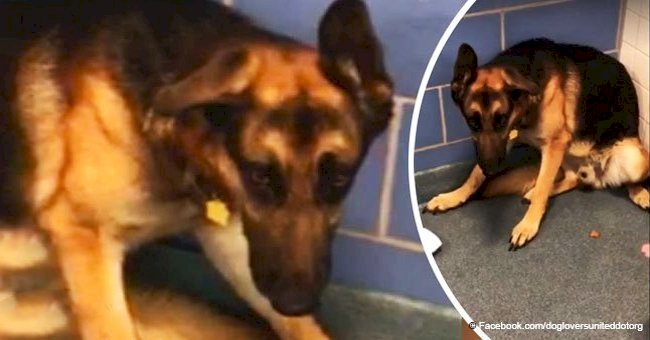 Loyal dog sits in a corner and can't stop shaking after his family dump him at a shelter
A heartless family abandoned their loyal dog after they learned they would have a baby coming soon.
Animals have feelings; they are living creatures, not toys. But that did not seem to pass through the heads of the former owners of Rocco, a 3-year-old German shepherd who was abandoned by them in a shelter.
According to The Dodo, you can see the dog sitting on the corner of a cage, shaking and crouching, laying frozen in fear.
His brown eyes were notoriously dismayed and sad. He had no idea why he was there, or where he would go next. The poor dog had an empty look that had a single culprit, its former owner.
The Dodo explained that Rocco had been abandoned at the Dallas Animal Services shelter in Texas because his family would soon have a baby. Follow us on Twitter for more @amomama_usa.
Seeing how scared the dog was, a big-hearted woman visiting the shelter posted a video of him on the internet. She was hoping to find someone who could provide extra attention as soon as possible.
Then, Preethi Pillaipakkam, a foster father of the DFW German Shepherd Rescue center, intervened to help him immediately.
"At first I was surprised, but once I saw how poorly fed he was, it all made sense," Pillaipakkam told The Dodo.
She inferred that it was surely a family whose situation at home was going to change, and also that they had not been the best owners of the German shepherd.
"The shelter is certainly not the environment for a dog like Rocco, he was very shy and was afraid to get in the car, he even hid under the car seat, he looked very stressed," he added.
During the first few days in his foster home, he ate and walked a little, but was still very confused about where he was. However, with the help of Pillaipakkam and his own dog, another German shepherd, Rocco began to develop in the coming days.
"He loves sofas and his dog beds, and he really likes gaudy toys and tennis balls, he's really a good catcher. He was a little distant at the beginning," Pillaipakkam explained, "but now he follows me like a shadow."
Since Rocco's video at the shelter has gone viral, they have received dozens of adoption requests for him.
"The ideal would be to see Rocco assigned in a new home in mid-September," said Pillaipakkam. "We wanted to give him at least a week or two [here first] to make sure he feels safe."
Thank God there are people who truly care about animals.
In another dog rescue story, a homeless dog was hiding in a yard of one of the houses in a Los Angeles neighborhood and was rescued amid fears of his safety. The dog was so frightened that he was even trying to avoid looking at his two rescuers.
Please fill in your e-mail so we can share with you our top stories!