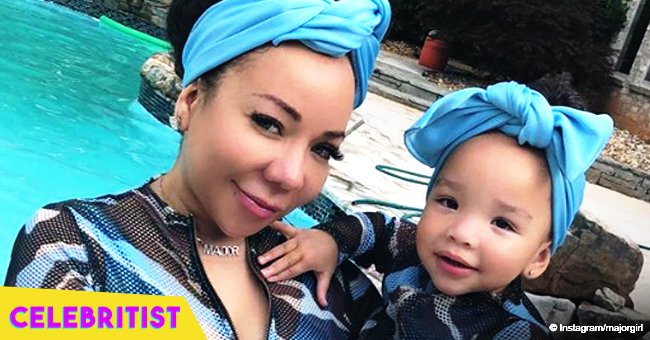 Tiny's daughter baby Heiress melts hearts in colorful dress, posing with Monica's daughter in pic

If there's one other person that Tiny Harris loves the most aside from her family, it's little Laiyah Shannon Brown. Of course, with Tiny and Monica being good friends, it comes with no surprise that they want their children to be close as well.
Just yesterday, their kids, Laiyah and Heiress, melted hearts with their adorable outdoor photo shoot that featured the two of them posing with one another. The proud mothers made sure to share a few photos of each other while hanging out, much to the delight of their fans who just get so hyped up when they share photos of their cute children.
Harris is Laiyah's godmother given her closeness to Monica, and she has teamed up with her and Toya Wright for a new reality TV show that is set to air on BET soon.
On the particular day of their photo shoot, it seems the Xscape singer was actually finishing a few scenes with her goddaughter when she realized that she was almost the same height as her.
"Got to see my beautiful Goddaughter @laiyahbrown yesterday she's almost taller than me & she's only 5…Damn!! TT Loves you girl."
Their filming comes after T.I. and Tiny have been on a much better ground after his cheating scandal that emerged a couple of months ago. Now, all seems well in the Harris household and the two of them are back to being the sweet pair that they are known to be.
During one of his concerts, a fan caught T.I. getting cozy with another girl identified as Asia'h Epperson, who was the reason for the couple's temporary split. The rapper was not able to spend Father's Day with his children with Tiny, as they all banned him from the house for the scandal. Instead, he spent his time with one of his older children, and they went on a trip to South Africa.
Everything has turned out to be okay between T.I. and Tiny, and they have been working on their relationship to ensure that nothing like that ever breaks it again.
Please fill in your e-mail so we can share with you our top stories!