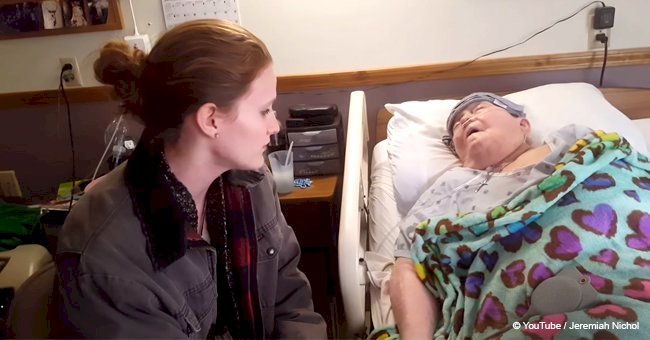 Young nurse sings a final song to her dying patient (video)
In 2017, a young nurse aid became viral after she sang to her dying patient one final song, which was a hymn entitled, "In The Garden." The caregiver and the patient grew close as they used to spend a lot of time together.
Nurse aid Isabelle Jennings truly cared for her late patient, Mary Helen Schmelzle, who passed away at 94 years old.
Schmelzle was one of Jennings's regular patients since she had been working at the Life Care Center in Seneca, Kansas.
For eight long months, Jennings and Schmelzle spent a lot of time together. One of their special moments that they liked to do was when Jennings would sing a song for Schmelzle.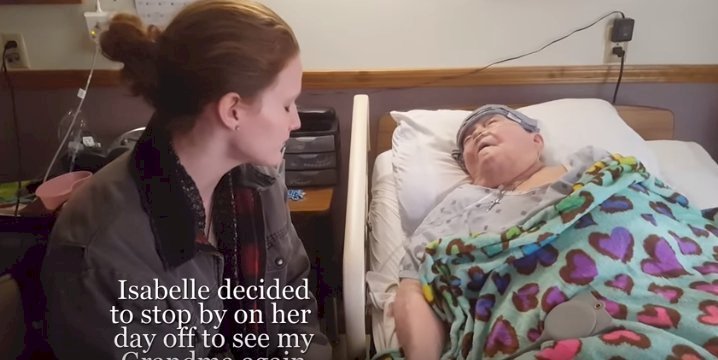 Source: YouTube/ Jeremiah Nichol
for more details and updates.
When Jennings found out that her elderly patient was not going to last long, she rushed to the facility to see Schmelzle.
Even though it was her day off, the caregiver did not think twice and visited her beloved patient.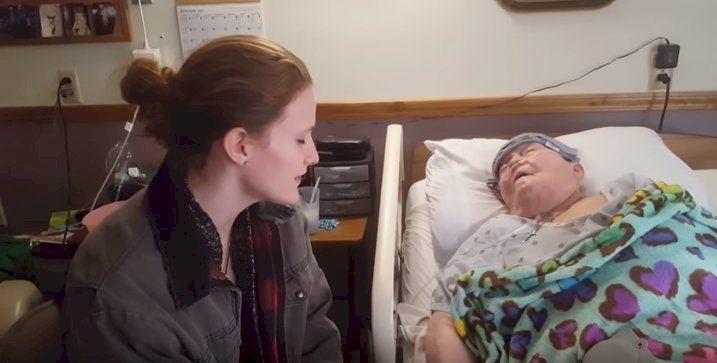 Source: YouTube/ Jeremiah Nichol
Speaking with Today, then-18-year-old Jennings
, "I loved Helen, and I counted her as a friend. I knew it would be the last time I saw her."
Even though she was sad, Jennings gave her friend one last song. Scmelzle's daughter, Julie Nichol, captured the heartwarming moment.
While holding Schmelzle's hand, Jennings beautifully sang the hymn, "In The Garden."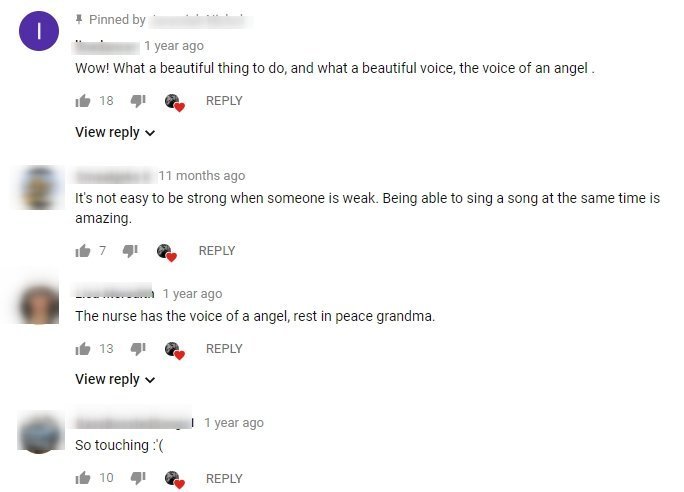 Source: YouTube/ Jeremiah Nichol
"This beautiful act of kindness and compassion that Isabelle showed, it was very touching. The best gift you can give somebody is your time, just your compassion,"
Both Jennings and Schmelzle shared a love for hymns. Every time Jennings would walk into the room, Schmelzle would ask her, "Are you going to sing to me?"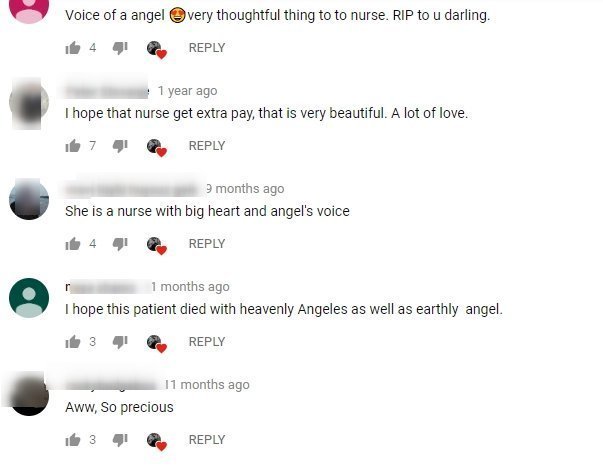 Source: YouTube/ Jeremiah Nichol
Even though Schmelzle's health was getting worse and worse, it didn't stop her from forming a deep bond with Jennings.
"I can't hold myself back from caring for them or loving them because I am afraid of getting hurt, because then they don't get the care they need," Jennings said.
Schmelzle spent seven years in Life Care. She entered the facility with her husband, Gilbert Schmelzle, who passed away at 89. At the time, he had only been staying six months at the nursing home.
Meanwhile, in another story, Olivia Neufelder, also a nurse, became emotional as she also sang to her dying patient.
Much like Jennings, she also sang to her patient, 63-year-old Margaret Smith, every day at the hospital before Smith was transferred to a nursing home.
When Neufelder visited Smith, she sang to her for the last time with a heartfelt rendition of "Dancing in the Sky" by Dani and Lizzy.
Please fill in your e-mail so we can share with you our top stories!