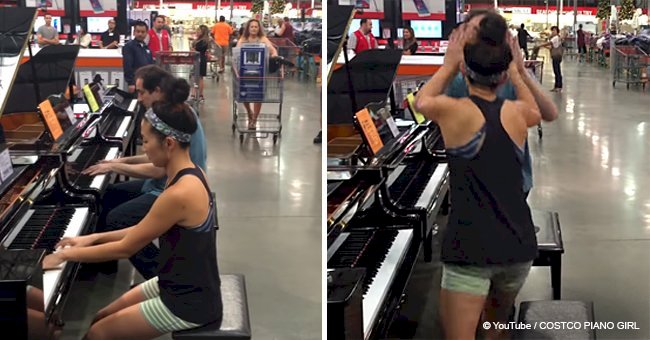 Costco salesman decided to show his piano skills when girl stole the show joining his play

A random meeting at a Costco resulted in a dazzling piano duet.
Being a Costco customer brings a buyer a lot of advantages, but who knew being party to a special impromptu concert was one of the perks?
Costco is one of the world's largest retailer, and you can buy anything at one of their stores, from peas to a piano.
Did we say piano? Because on September 30, 2015, one of Costco's salesmen sat down at a piano to demonstrate the instrument's excellence by playing Adele's "Someone Like You."
What happened after he started to play has gone viral on Youtube/ Costco Piano Girl and garnered over 9,000,000 views.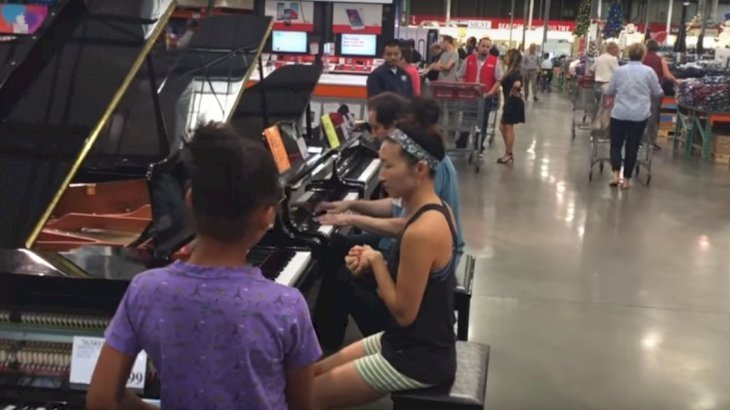 Source: YouTube/ Costco Piano Girl
"Walked into a Costco, heard the salesman play a beautiful song and I joined in for some fun!! Totally made my day!"
hyp3r247, Youtube/ Costco Piano Girl, September 30, 2015.
AN IMPROMPTU DUET BETWEEN TWO STRANGERS
The Costco salesman was seated at one piano, and a young Asian girl in a t-shirt and shorts was seated at the instrument next to his.
He started playing and she looked around hesitantly, before starting to play in counterpoint, slotting herself in seamlessly into his performance.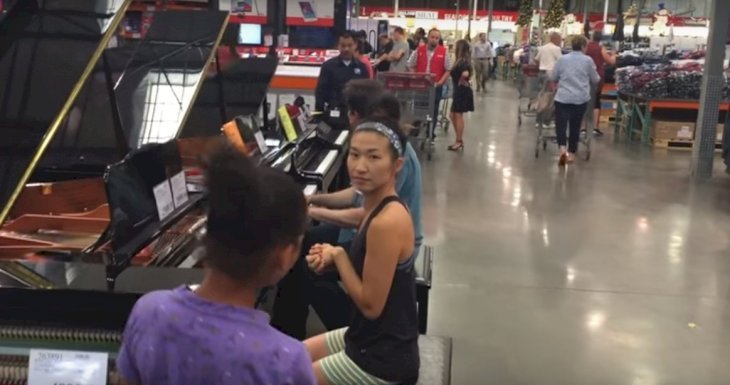 Source: YouTube/ Costco Piano Girl
A MAGICAL MUSICAL MOMENT AT COSTCO
The two musicians played beautifully together as if they had been practicing for years, and their virtuoso performance started drawing other customers who stopped to listen to their duet.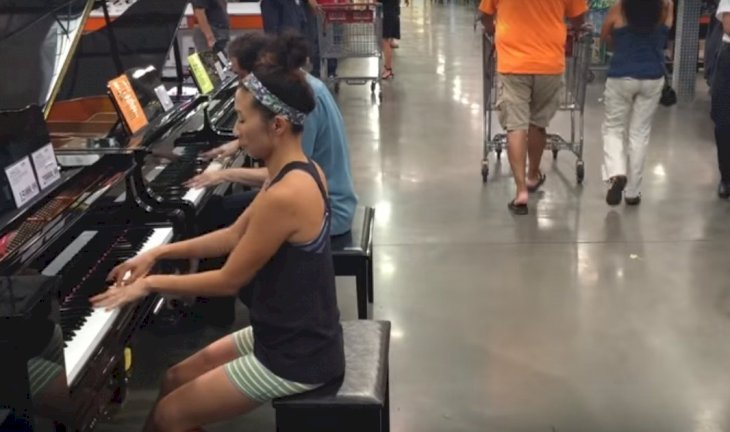 Source: YouTube/ Costco Piano Girl
"SOMEONE LIKE YOU"
"Someone Like You" was written by English singer Adele and songwriter Dan Wilson and is one of her greatest hits. The song which tells the tale of a failed relationship was written to be accompanied by only a piano.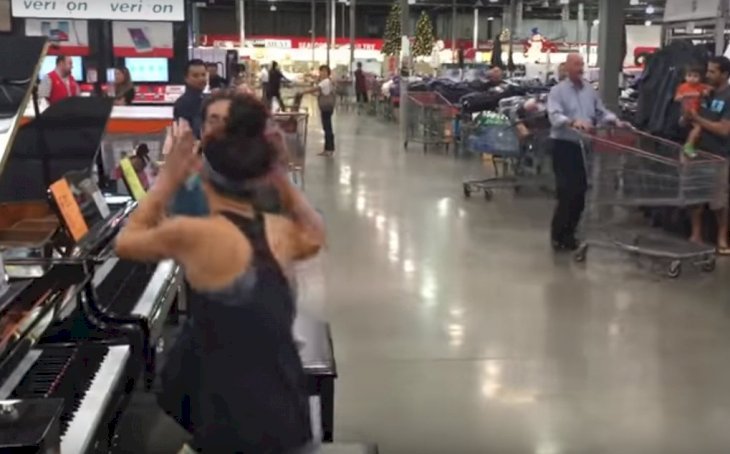 Source: YouTube/ Costco Piano Girl
A SENSITIVE AND UNUSUAL RENDITION
In their duet, curiously enough, the salesman played the piano accompaniment, and the customer played "the voice" melodics. The end result is a beautiful arrangement that has been seen and enjoyed by millions all over the world. The two musicians ended their performance with an exhilarated double high-five.
ANOTHER PIANO DUET IN A TRAIN STATION
In 2013 the French train company SNCF started an initiative which they hoped would bring music to their commuters' lives.
They acquired a portable piano which would be moved from station to station in Paris and be available for anyone who felt moved to do so to play.
In 2015 two strangers played a duet that would be posted on YouTube/AINI XICOTA, where it has been viewed by more than 47,000,000 people.
A Spanish musician, Gerard Pla Daró sat at the piano and started playing "Una Mattina" by contemporary Italian pianist and composer, Ludovico Einaudi while another man looked on.
After a while, the man, Nassim Zaouch joined in and proved to be equally talented. The two men drew the rippling melody effortlessly through the piano, enchanting a growing crowd of bystanders, bringing a little musical magic to an ordinary day.
Please fill in your e-mail so we can share with you our top stories!