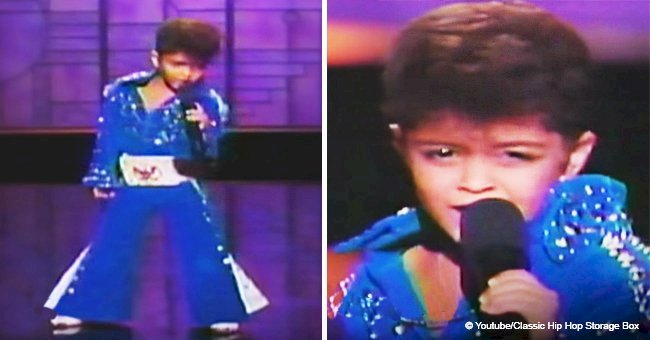 Remembering little Bruno Mars impersonating Elvis Presley in 'Honeymoon In Vegas'
Even though Bruno Mars is known for keeping the details of his life under the wraps, several people know many aspects of it. However, not too many know that he was in "Honeymoon in Vegas."
The 1992 comedy film that got Nicolas Cage, James Caan, and Sarah Jessica Parker together and that got two Golden Globe Award nominations, has a hidden secret that nobody noticed when it was originally released.
Now that the time has passed and that "secret" grew up to become one of the most talented musicians, people realize it. In one of the scenes, Bruno, who was six years old then, appeared playing the world's littlest Elvis Presley impersonator.
THE PERFORMANCE
In the YouTube video that Lisa Berlin uploaded, Mars appeared wearing a blue and white ensemble very similar to the ones the King of Rock and Roll used to wear for his presentations dancing and singing to "Can't Help Falling in Love."
Even though the young Bruno was in camera for less than a minute, it was enough for him to show off his impersonating skills. One of the possible reasons why it took people so long to learn that Mars was in the movie was because he used to go by the last name Hernandez.
OBSESSION WITH ELVIS
Daily Dot revealed that Bruno's parents, Peter and Bernadette, were obsessed with Elvis, so it was natural that their child would copy most of the things that the King used to do. The singer's parents even opened up a merchandise store in Waikiki, Hawaii, and they called it "Elvis Elvis Elvis."
SINGING FROM A VERY YOUNG AGE
Steve Pool interviewed Bruno at that age, and he learned that his parents got him singing in the family band as soon as possible. Once they did so, they realized from "his lips to his hips, this kid is all Elvis."
THE BEGINNING OF HIS CAREER
Bruno kept performing in Hawaii and impersonating Elvis up until 2003 when he moved to Los Angeles and signed with Motown Records. Even though he was dropped by the label less than a year ago, his dream of becoming a successful singer didn't end there.
He worked as a guest vocalist on B.o.B's and Travie McCoy's singles, and soon after that he released "Just the Way You Are," the lead single song from his debut studio album "Doo-Wops & Hooligans." The rest is history.
RECENT VACATION
Recently, Bruno and his girlfriend, Jessica Caban, went to Punta Mita in Mexico enjoying the beach while on vacation from his "24K Magic World Tour." One of the most striking aspects of the outing was Bruno's upper body.
His belly looked a bit bigger than most people could have expected. It didn't prevent him from going on a boat with friends and enjoying his break.
Please fill in your e-mail so we can share with you our top stories!