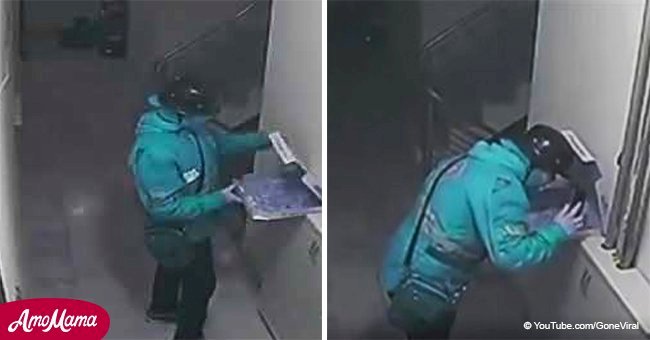 Pizza delivery man learns his fate after being caught spitting on pizza on CCTV camera
Burak S in Turkey was fired from his job after CCTV showed him spitting on a customer's pizza. He could face up to 15 years in prison for the dangerous act.
According to the Daily Mail, the 18-year-old entered the fifth-floor flat of Huseyin Alyuz in Eskisehir, north-west Turkey. The video showed as he leaned over the pizza and recorded himself spitting.
But Burak denied the charge by claiming he was simply checking the pizza for damage. He has since been sacked and charged.
The video of the incident is found below.
Follow us on Twitter for more @amomama_usa.

Source: YouTube/ GoneViral
Alyuz explained what happened that night to the court:
"I called the pizza shop and ordered a pizza. It was a two-minute conversation and I did not curse anybody."
He continued:
"The suspect delivered the pizza to me. I opened the box and took two slices of pizza. Cagatay Efe who lives in the same building, send me a text saying 'do not eat the pizza.' "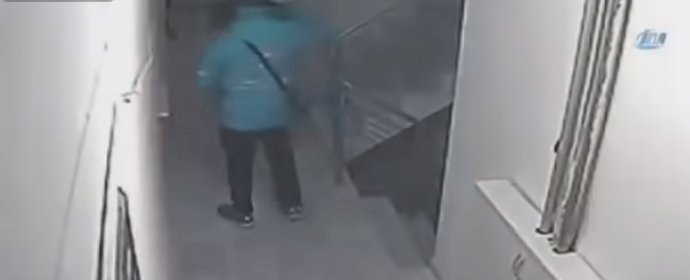 Source: YouTube/ GoneViral
Then he said:
"I called Cagatay, he told me the delivery boy had spat on the pizza. When I checked the security camera footage I realized the suspect had spat on my pizza."

Source: YouTube/ GoneViral
Alyuz reported it to the police as well as the pizza company.
Burak tried to explain himself:
"I found out that the person who ordered the pizza had cursed my colleague Aylin. I knew he was a problem customer."
He continued:
"I took a picture of the pizza with my mobile phone and sent it to my friend Aylin. I absolutely did not spit when I opened the box."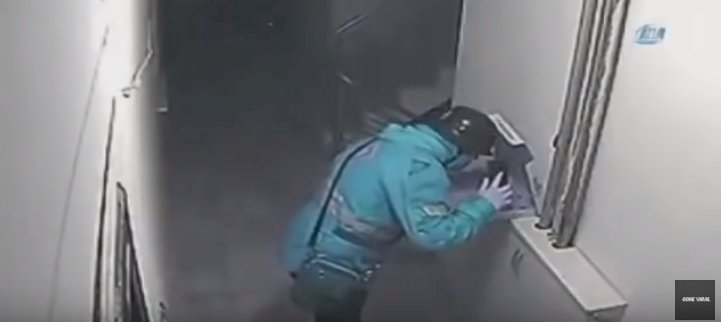 Source: YouTube/ GoneViral
He further claimed that he simply "opened the box of the pizza to check for any problems, to check whether the pizza was still intact."
Burak is charged with "endangering the lives of persons by putting poison or spoiling the food with other means" which could lead from two to 15 years of prison time.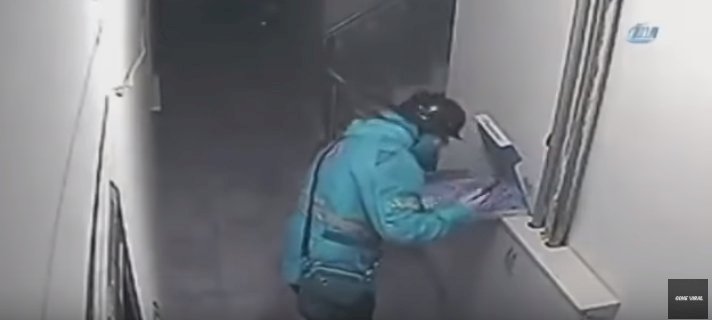 Source: YouTube/ GoneViral
Furthermore, he is facing a consumer court charge of "damaging goods and endangering customer's health." The sentencing for this is between four months and three years.
The case has been adjourned until February 2019 in order for forensic experts to assess the risk of disease.
Meanwhile, the consumer court case is pending.
Source: YouTube/ GoneViral
In June 2018, an Ecuadorian immigrant was faced with vastly different but serious charges after delivering pizza to a military Brooklyn base.
Pablo Villavicencio showed his free government-issued ID to guards at the Fort Hamilton military base, but it wasn't enough.
They subsequently called ICE and when authorities did a background check on Villavicencio, an active Immigration and Customs Enforcement warrant came up.
Villavicencio was arrested and is being held in an ICE facility in New Jersey. He awaits deportation.
New York City Councilman Justin Brannan said:
"We're still trying to figure out what happened. Pablo has personally delivered to the army base in the past without incident. He used his NYC ID, his municipal ID, to gain access o the base in the past, that's what he did this time."
Last month, a Comerica Park food services employee was also fired and arrested for spitting on a pizza.
A video of Jaylon Kerley went viral after his co-worker Quinelle May posted it to social media.
Source: YouTube/ WXYZ-TV Detroit | Channel 7
May himself was threatened with prosecution if he didn't take down the video.
Kerley was said to have committed the atrocious act because his bosses had been yelling at him and he was simply having a bad day.
Please fill in your e-mail so we can share with you our top stories!