Video of 2-year-old sharing a natural hair tutorial goes viral
Adorable toddler, Jayde Robinson is giving every haircare YouTuber a run for their money as she films one of the funniest tutorials sure to keep you watching to the end.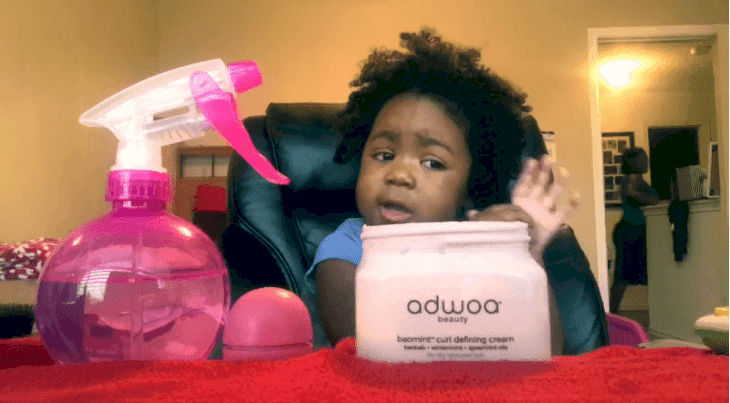 In the 13-minute video, Jayde arms herself with all the necessary tools for moisturizing her kinky curls: a wide-tooth comb, pink spray bottle, and a jar of curl-defining cream.
"Hey guys," she calls out. "I'mma a do my hair today." She also adds that she'll be seeing her "TiTi" soon while mom does the laundry.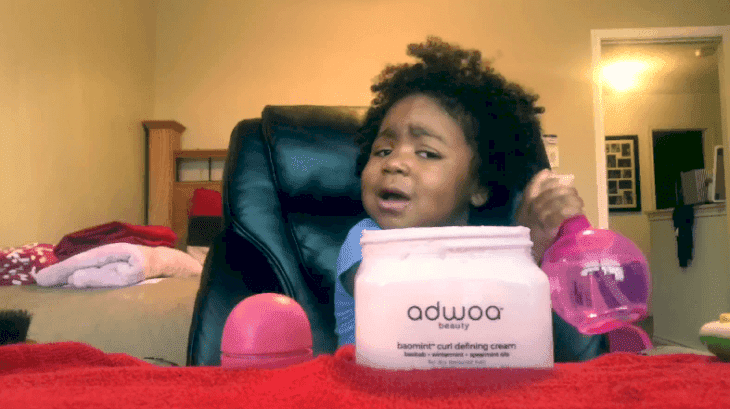 Jayde is very serious with her task too. She picks her messy curls one section after another, sprays some water on it, and then apply some of her some of her cream, all while keeping up small talk with the viewer. She's totally hilarious!
At various times during the tutorial, Jayde's mom, Kerry Robinson calls from the laundry room to see if Jayde needs her help, but the tiny tot replies with a confident "No." Not even when she smeared the cream on her face did she call for help.
Two things are evident from Jayde's video: This kid has been watching a lot of YouTube tutorials, and she's a born entertainer.
Fans of the toddler will recall the 2017 video that first went viral and made her an internet sensation. Kerry engaged an infant Jayde in some "Salon Talk" and the tot, still in diapers, did not disappoint.
Jayde kept her mother talking throughout the gossip section while she took a brush to the older woman's hair. Her gestures and seeming grasp of mature issues endeared her to thousands across the world.
First published on February 6, Jayde's tutorial video now has close to one million views on YouTube and Instagram combined. Jayde also has over 100,000 subscribers on her YouTube channel where she has more hilarious hair videos.
Check out Jayde's tutorial and see if you won't learn a thing or two.
TAYLOR'S THOUGHTFUL QUESTIONS
Another hilarious toddler who won the internet's heart with her gestures is Taylor, a five-year-old who could not understand why Barack Obama left the White House. In a three-part video on Instagram, Taylor is seen quizzing her mother with tough questions. In the end, she's not very satisfied, and told her mother sadly:
"I wanted Hilary and marack [barack] Obama."
You can read Taylor's story and see her cute videos here.