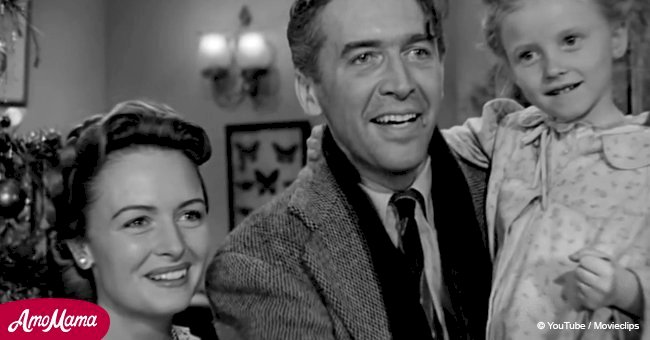 Remember that moment from 'It's a Wonderful Life' movie that made everyone cry
No Christmas would be complete without watching the movie, 'It's a Wonderful Life,' where everyone anticipates the legendary scene that made the movie television staple during Christmas seasons in the late 1970s, and still well known today.
Source: YouTube/Movieclips
The movie premiered at the Globe Theater in New York 72 years ago on December 20, 1946, with mixed initial reviews. The film based on the character George Bailey (played by James Stewart), who gave up on his dream in order to help others wanted to commit suicide on Christmas Eve.
His guardian angel, Clarence Odbody intervenes by showing George all the lives he touched and how different life in Bedford Falls would have been had he never been born.
Source: YouTube/Movieclips
In 1990 the movie got deemed 'culturally, historically, and aesthetically significant' by the United States Library of Congress. Considered as one of the most critically acclaimed films, 'It's a Wonderful Life.' got nominated for five Academy Awards and got recognized by the American Film Institute as being one of the 100 best American motion pictures ever made.
Source: YouTube/Movieclips
The scene at the end of the movie made it most memorable as the main character George Bailey stood in his living room surrounded by family and friends after experiencing what his guardian angel had to show him. He was holding his daughter in his arms and they heard a bell ringing on the Christmas tree, and she said:
"Look Daddy. Teacher says, every time a bell rings an angel gets his wings."
Source: YouTube/Movieclips
The message to appreciate our loved ones and do good to those in need came across in a touching way, extending into the spirit of Christmas and making the film popular during the festive season.
And if you want to enjoy Christmas all year round and keep festivities going, there is a magical place in the US that prides themselves on doing just that. Established in 1976 the Christmas Farm Inn and Spa in Jackson, New Hampshire does all things Christmas year round, they even have an extensive menu catering to children. What a wonderful life that could be.
This American Christmas fantasy comedy-drama motion picture 'It's a Wonderful Life' got produced and directed by Frank Capra and based on a short story The Greatest Gift, written by Philip Van Doren Stern in 1939. Unsuccessful in getting the story published he made it into a Christmas card which he mailed 200 copies of to family and friends in December 1943.
The story came to the attention of RKO producer David Hempstead, who showed it to Cary Grant's Hollywood agent, and in April 1944 RKO Pictures bought the rights to the story for $10,000.
Please fill in your e-mail so we can share with you our top stories!