Kenny Rogers and Kellie Pickler sing together and their charming duet is really harmonic
Kenny Rogers partnered with Kellie Pickler to sing his iconic duet during a special appearance on the talk show "Pickler & Ben."
A video of the episode uploaded to Facebook sees the country icon partner with the co-host of the show, Pickler, who is herself a celebrated country artist, to perform the hit duet, "Island in the Stream," which he originally sang with legendary Dolly Parton.
Rogers and Pickler are seated alongside one another as they hold the microphone and wait for the musical cue to begin their performance.
Right before it begins, Pickler makes her excitement and nervousness at sharing the stage with the country icon apparent by exclaiming, "I'm no Dolly! I'm gonna try!"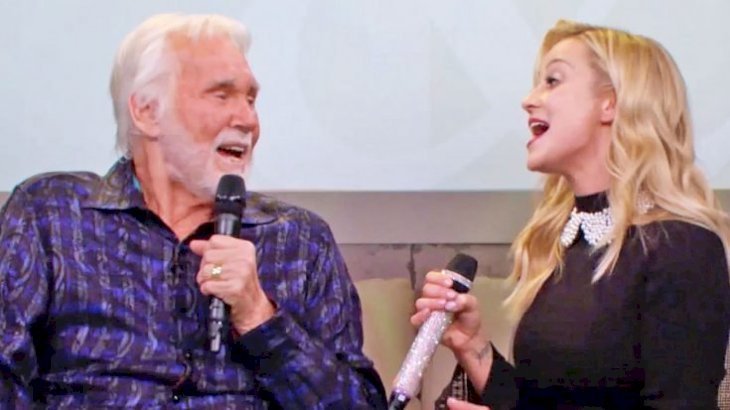 Follow us on Twitter to learn more.
As soon as Rogers began providing his vocal to the fantastic lyrics of the song, it became immediately obvious why Pickler felt all the pressure.

The country icon's voice is as smooth and melodious as ever and he was about to give her some serious competition in terms of singing standard.
However, when Pickler began singing her part of the duet, she proved that she wasn't half as nervous as she appeared to be.
She matched Rogers note for note and melody for melody. Her pitch was just about perfect and every difficult note she hit impressed Rogers more than anyone else.
The pair can be seen completely enjoying the performance as they put up one of the most memorable performances for the audience.
The entertaining video has been watched more than 745,000 times on Facebook and it has been shared over 5,000 times, making it go viral on social media.
Meanwhile, Classic Country Music informed that "Island in the Stream" is one of the most beloved country duets, which was released back in July 1983.
Following its release, it topped both the Billboard Hot Country Songs chart as well as the Billboard Hot 100 chart.
Rogers is still one of the most popular country artists. Recently, his 2018 tour, "The Gambler's Last Deal," was canceled due to the effects of his advanced age.
Kenny Rogers has canceled the remaining dates on his "Gambler's Last Deal" Tour due to health issues https://t.co/XxmpNzbMxJ pic.twitter.com/Y8u7YnQAdg

— Rolling Stone (@RollingStone) April 4, 2018
The 79-year-old artist was set to perform in front of his fans back in May, but his health condition led to the cancelation and refund of fans' ticket money.