6-year-old little girl touched hearts as she comforted crying homeless man in viral photo
Six-year-old Janiyah Lewis is proof that there's still so much good in the world. The little girl proved that you don't have to be a certain age to be kind.
It's easy to overlook homeless people, judging by the sheer number of them lining the streets, but Janiyah surprised her mother, Kenyatta Lewis, when she took notice of one homeless man and turned his life around.
Back in 2016, the six-year-old and her mother were coming out of a shop in Virginia when she noticed a homeless man crying by the side.
A curious Janiyah turned to ask her mother some questions. Kenyatta shared on Facebook:
"After leaving out of the store today my daughter did something that really made me stop and think. There was this guy sitting there crying and she asks me, 'Did you see that man crying? What's wrong with him?'"
Kenyatta told her daughter she had no idea why the man was in tears. "Maybe he's hot and thirsty," she said.
Maybe that answer may have sufficed for anyone else, but not for Janiyah, who walked up to the homeless man to offer words of comfort.
Kenyatta revealed further:
"She walked over to him and goes 'Hi sir, be happy it's a nice day it's not raining. Are you hot? Why don't you go home the ground is dirty?' He says 'I have no home but I will be ok.'"
His admission made Janiyah unhappy, and according to her mother:
"She looked at him with the saddest face and goes 'So that means you're homeless. So you have no food because you have no refrigerator.' She gave him a few dollars out of her purse and her drink and said, 'Please go eat. It would make me happy. I like McDonald's, you should go there.'"
Janiyah's action not only put a smile on the homeless man's face, but it also attracted more folks who gave him more money. The man then opened up and said that he became homeless after losing his wife and every other thing in a trailer fire.
Before leaving, Kenyatta took a photo of her little princess with the homeless man and shared on Facebook. The story went viral in no time and was featured by numerous media outfits.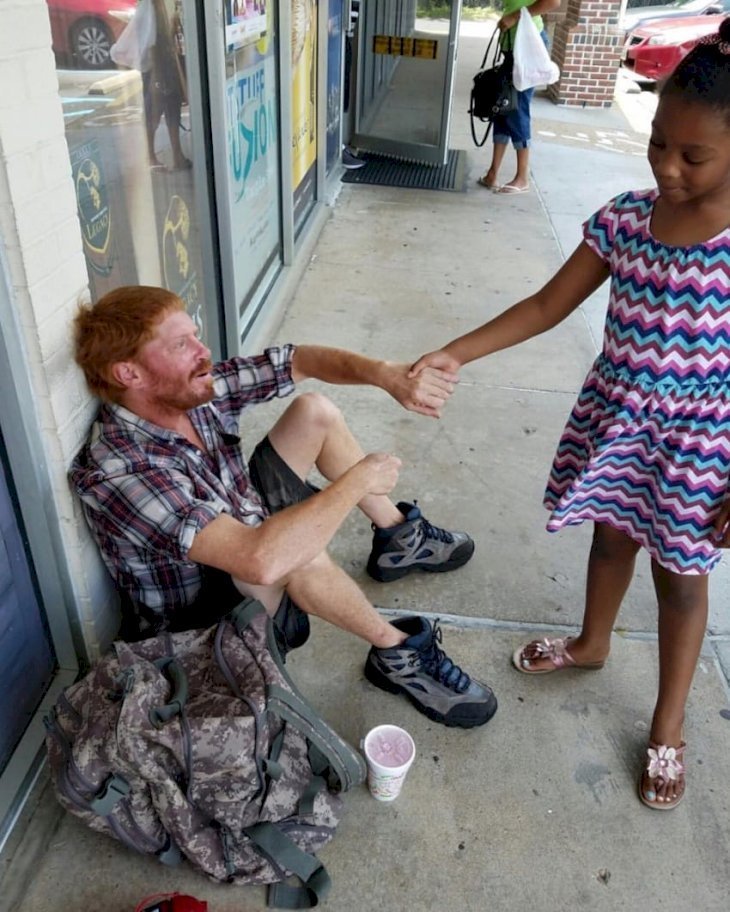 The mother-daughter duo also set up a GoFundMe page for the homeless man, and as at the time of publishing this story, have raised over $2,000.
LAWFUL  KINDNESS 
Like Janiyah, Corporal Gunnar Burdt also brightened a homeless man's day. Not only did the Corporal buy food for the man, but he also sat to eat with him. Sheriff Jim DeWees, who had initially gone to lunch with Burdt, witnessed the scene and shared on Facebook. 
MAGICAL KINDNESS
We sometimes overlook the impact of a simple act of kindness, but it's reassuring to see how such actions can encourage others to lend a helping hand as well.
YouTube prankster, Rahat Hossain, known mostly by his account handle, "Magic of Rahat" witnessed the power of kindness after a video of him giving money to a homeless man went viral.
Hossain surprised Eric with $1,000, pretending it was a Lottery winning, but when Eric tried to share the money with his benefactor, he won over the internet. His actions sparked a donation drive that raised enough money to get a furnished house, and then some.
Hossain filmed the touching moment he presented Eric with the keys to his new house, and it's oh-so-emotional. You can find that story here, but you've been warned: keep your tissues close, folks!