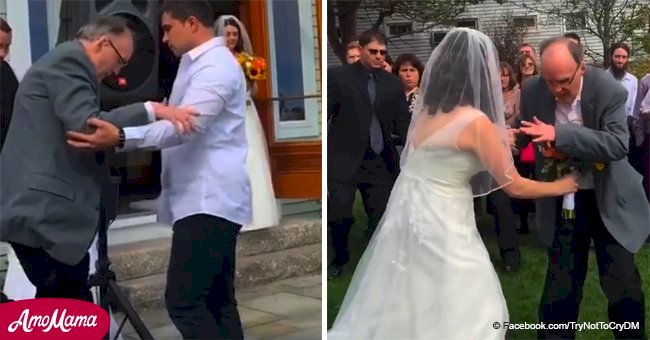 Daughter in tears as her dad stands up from wheelchair to walk her down the aisle
This father's love for his daughter was so strong that not even cancer could stop him from walking her down the aisle. His determination drew tears from everyone.
Ralph Duquette's battle with leukemia left him confined to a wheelchair after several intense chemotherapy sessions. It also stole his sight in one eye and put him in a five-day coma according to the Daily Mail.
He survived through all of it. But his daughter Heather who lives in Waterville, Maine, had no hope he would be able to make it to her wedding, much less to walk her down the aisle.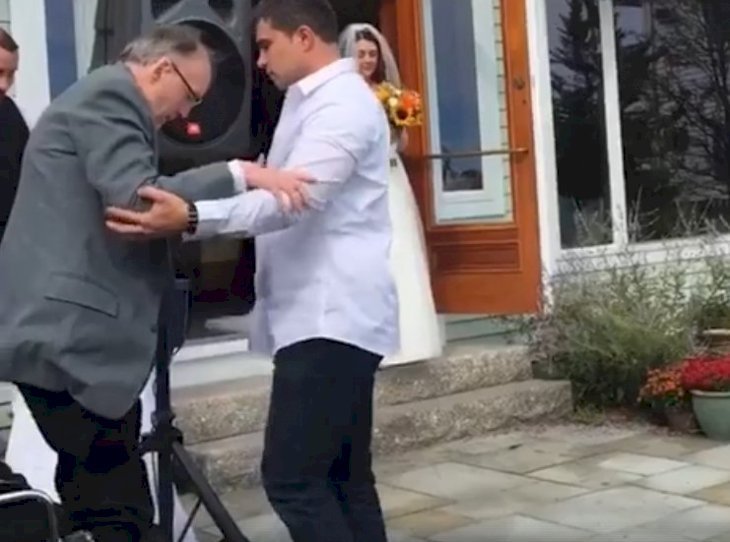 Source: Facebook/ Try Not To Cry
The wedding took place at Joseph's By the Sea in Old Orchard Beach. A small group of 75 persons attended.
Ralph first told Heather that he was too weak for the daunting task. In reality, he spent months enduring painful physical therapy just so he could surprise her.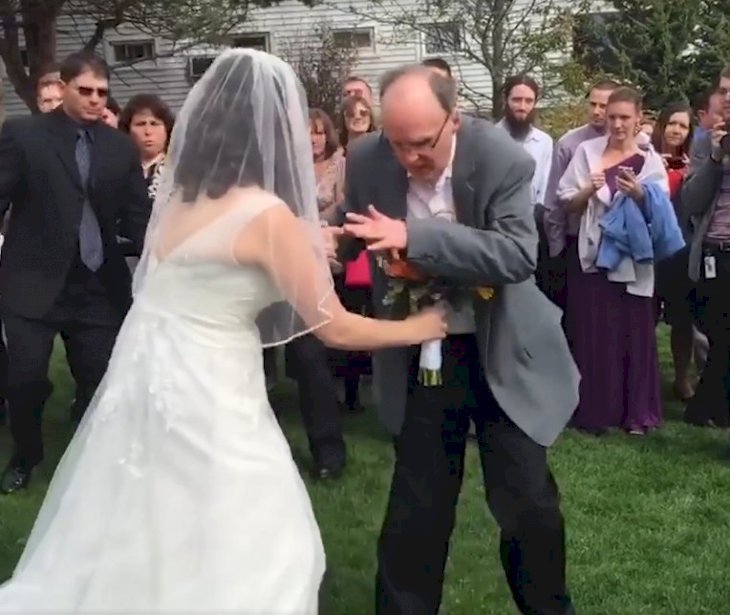 Source: Facebook/ Try Not To Cry
On October 10, 2015, Ralph shocked his daughter, husband Dan Casoria, and many others. The clip showed Ralph sitting in his wheelchair just below the steps on which Heather stood.
Then an assistant in a white shirt made himself available to Ralph as support so that he could stand up.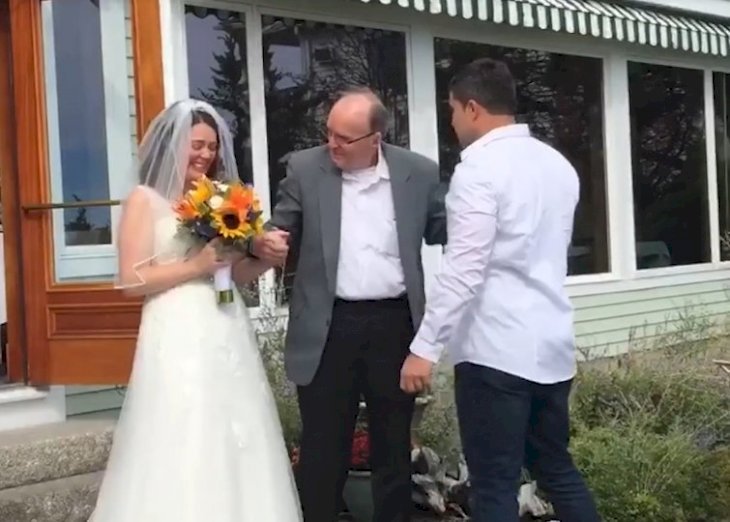 Source: Facebook/ Try Not To Cry
Ralph did a good job in steadying himself and walking next to his daughter, who is already tearful.
The two then made their way through the grassy lawn. At one point, Ralph tripped up a bit and is held by his daughter.
Another man rushed in to assist but Ralph implied he wanted to continue on. So he and his daughter finished walking down the aisle without further hiccups.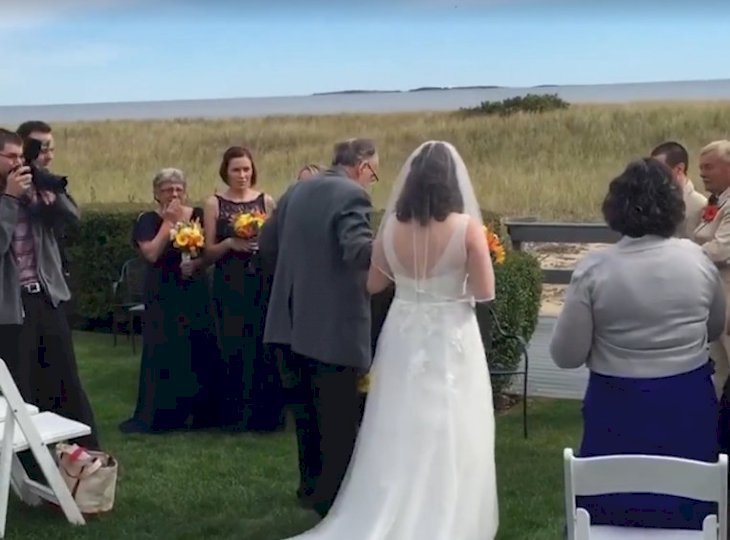 Source: Facebook/ Try Not To Cry
"I was blown away and completely speechless," said Heather.
She and Ralph later had a traditional father-daughter dance.
Heather's husband proposed to her at Disney World Florida back in 2015, a year-and-a-half after the two had their first date.
The date had been a simple dinner and a movie. Dan was a maintenance worker at Hid 'n' Pines Family Campground.
In another heart-wrenching story, Jim Zetz, 62, was battling with stage IV pancreatic cancer.
His daughter Josie, only 11, would more than likely not have her father around to walk her down the aisle.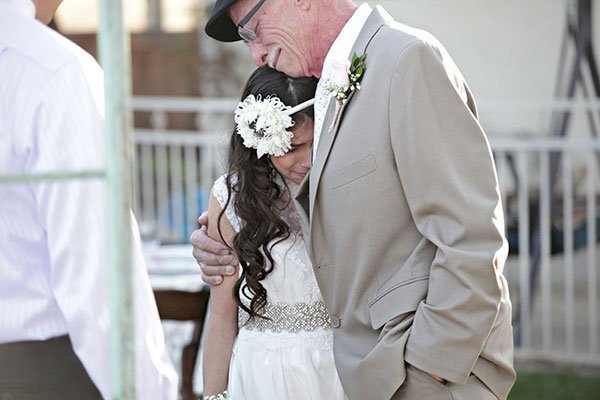 Source: Bridal Guide
When the family hired photographer Lindsey Villatoro for one last family photo session, she came up with a brilliant idea.
Villatoro secured a tuxedo, cake, catering, flowers, a wedding dress, and hair and makeup for Josie.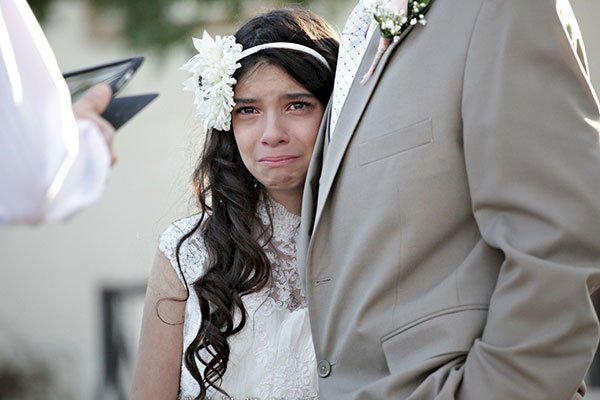 Source: Bridal Guide
A bit overwhelmed at first, Josie later described the mock wedding as being the "best day of [her] life."
No doubt her father also cherished the irreplaceable moment.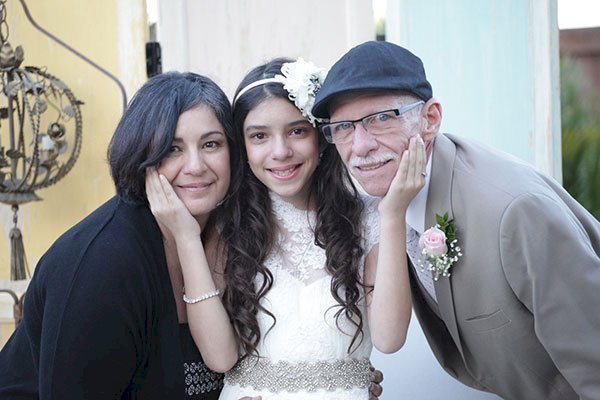 Source: Bridal Guide
Another father was treated by his three daughters to a triple-bride mock wedding before he passed.
Akhil Jhaveri suffered from Amyotrophic Lateral Sclerosis and was unable to speak or move.
His daughters knew that he had hoped to see them walk down the aisle on their wedding day.
So within a week, they planned the special event at Vintage Gardens in Ridgefield, Washington.
Source: YouTube/ The Columbian
Jhaveri in his wheelchair walked each of his daughters, all donned in white wedding dresses and holding bouquets, down the aisle in fulfilment of his last big wish before he passed.
Please fill in your e-mail so we can share with you our top stories!