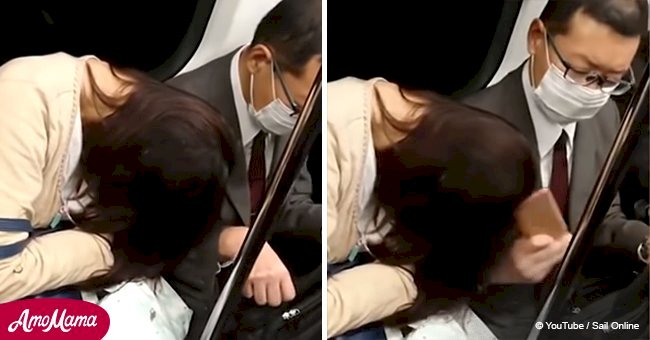 Video of man hitting a sleepy girl on the head with his phone caused strong reaction on the Internet
On October 3, a disturbing clip was posted by @SakuradaPC on Twitter with the caption, 'I get that you don't want her leaning against you…but that's really messed up.'
Since it's upload the video clip gathered over 4.36 million views and an excess of 24,000 retweets, with comments ranging from incredulous to somewhat defensive.
@SakuradaPC filmed the pair sitting next to each other on a packed commuter train, the woman was leaning over holding her bag in her lap fast asleep and to her left a Japanese businessman wearing a face mask and glasses.
Source: YouTube/Sail Online
Read more on our Twitter account @amomama_usa.
Source:YouTube/Sail Online
With the gentle rocking of the train, the sleeping woman gradually leans more towards the Japanese businessman. Calmly the businessman unzips a pocket in his briefcase, takes his cell phone out and smacks the sleeping woman on the forehead. He replaces the cell phone as calmly as he took it out, looking ahead of him like nothing happened while the dazed woman looks around.
Source: YouTube/Sail Online
The twitter user @SakuradaPC that captured the video didn't just happen to be in the right place at the right time, he witnessed the businessman doing the same thing 3 times prior. @SakuradaPC knew it was going to happen again and was ready to capture the businessman hitting the woman with his phone a fourth time.
A law student in Russia, 20-year-old Anna Dovgalyuk has had enough of behavior men have toward a woman, accusing her countrymen of 'gender aggression' insisting the Russia is not doing enough to tackle the problem. Meanwhile, Anna implements a strategy of her own.
If she sees a man spreading his legs too far on the St. Petersburg metro she sprays his crotch with a mixture of bleach and water, this eats through the color of the fabric, branding them as 'manspreaders' in the hope that men will become more aware and stop that behavior towards a woman.
Source: EAST2WEST NEWS
Recently a man was arrested after being recorded on CCTV footage hitting a woman in the face. 22-year-old Marie Laguerre was on her way home when her path crossed with a man making remarks about her body. She had a long day and did not welcome the crude remarks upon which she told the man to 'shut up.'
Her response was ill received and the man responded violently by throwing her with an ashtray for the outdoor eatery they were adjacent to when the incident occurred. The man then approached her again and punched her in the face before calmly walking off. Customers at the eatery went after him and he was arrested shortly after.
Please fill in your e-mail so we can share with you our top stories!