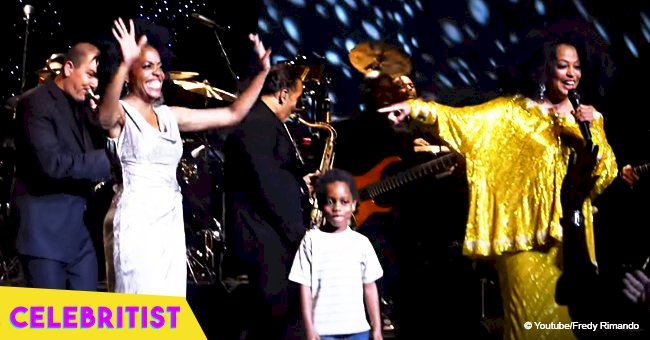 Remembering when Diana Ross brought daughter Rhonda & son on stage for 'I Will Survive' performance

Diana Ross, one of the most important and influential singers of all times, took her daughter, Rhonda, and one of her grandsons, Raheem, on stage at the end of her concert.
In the video that Fredy Rimando uploaded to his YouTube channel, the world-wide known singer appeared wearing a shiny yellow ensemble while walking with Raheem next to her and Rhonda a couple of steps behind them.
While the band behind them were playing and singing to "I Will Survive," Diana started introducing her family to the audience at the Montreal Jazz Festival. Rhonda was clearly happy to get on stage next to her mother, but the boy was a bit nervous.
ASKING HIM TO DANCE
At some point, Diana asked him to dance, but he just stood in the middle of the stage staring front. He started moving his legs, what gave people the impression that he would dance, but he ultimately chose to stay still.
HELPING HER MOTHER TO SING
Diana then gave the mic to her daughter and, while she was saying goodbye to the people in the front rows, Rhonda sang some of the lyrics of the song. After a while, they left the stage waving at the audience.
GETTING ONSTAGE AGAIN
It was not the last time Diana invited Raheem onstage as she did the same during her American Music Awards performance in 2017. Not only did the singer invited Raheem but the rest of her grandchildren.
SHOWING OFF HIS MOVES
For that night, Raheem had a lot more confidence as he stole the show. While Diana was singing "Ain't No Mountain High Enough," the boy, ricking a fantastic afro, stood behind her grandmother and danced his heart out.
Everybody at the Microsoft Theater in Los Angeles and those watching from their homes noticed that Raheem could become a star if he keeps dancing in the way he did it on that show.
As soon as that happened, people took to social media to praise the boy's skills. Some pointed out that even though Diana was a Diva, Raheem stole the spotlight for a while. The little man has a bright future ahead
Please fill in your e-mail so we can share with you our top stories!