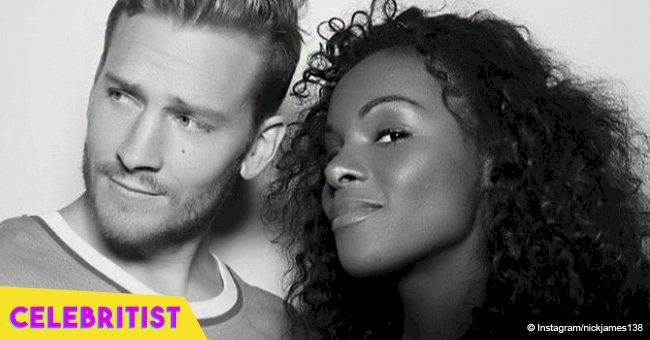 Tika Sumpter bares her huge baby bump in throwback photo celebrating daughter's birthday
"Southside with You" actress, Tika Sumpter took a trip down memory lane as she celebrated her daughter's birthday with a throwback photo from her pregnant days. The mother-of-one earlier revealed why she kept the pregnancy a secret for a long time.
In the photo, Sumpter put her huge baby bump on display in a pair of black underwear and a long coat she left unbuttoned.
She wrote:
"Ella is the best thing that's happened to me. Thank you for swimming so fast. Happy birthday! #mybestwork"
Her fans immediately took to the comments section to gush over the actress and Ella Loren, who she gave birth to in October 2016:
"Hope Ella had a wonderful birthday celebration!"- @queenmsannn
"Happy Happy Birthday to your princess! Wow 2 years already!"- @gailey_bee
"HBD Ella...dang where does the time go... @tikasumpter hope your little Olympian enjoys her day"- @bbydoll1224
Sumpter has always been very private about her personal life. The actress first announced her pregnancy in August while promoting "Southside" with the executive producer, John Legend.
"Preggers and promoting w Legend. Happy and proud. #Southsidewithyou #Aug26th," she wrote, alongside an Instagram pic taken from the press conference.
The "Haves and Have Nots" star also revealed why she decided to keep news of the pregnancy to herself for a long time:
"She's my first child, and I wanted to experience every moment of this pregnancy for myself and enjoy it without everybody else being in it with me."
"I didn't want to hear, 'Who's the dad? Are you with the dad?' Social media can be harsh, and I'm a mama bear, protective of my family. So that's why I waited to tell people, including some friends."
Sumpter, 38, however, noted that her friends did not take offense with her choice.
"My friends weren't mad at me," she disclosed. "They said, 'You did it the way you wanted to do it. You're an inspiration.'"
Sumpter also did not reveal the identity of her child's father until June last year when she gave him a Fathers' Day shout-out. It turned out Ella's dad is her "Haves and Have Nots" co-star, Nick James.
Before then, she had opened up on "The Real" about the sweet way James proposed to her on Christmas day, still making sure not to reveal his name:
"'He did all of these amazing things [Christmas morning]. I went on a little hunt in the house...And then he had a letter behind Ella, and he's like, "Ella has something to say to you." And it was just this letter of beauty. And then he proposed. It was just simple and just awesome."
Ella turned two on October 8.
Please fill in your e-mail so we can share with you our top stories!