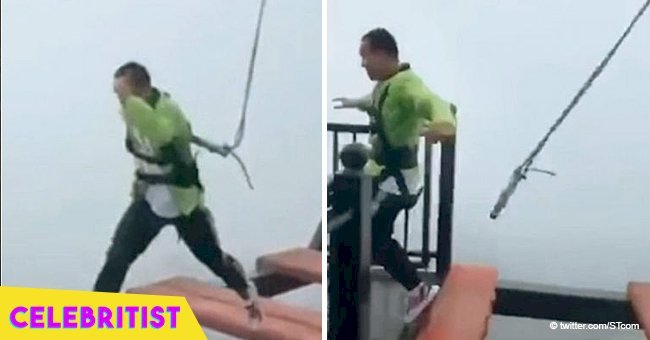 Viral video of terrifying moment tourist's safety rope breaks as he jumps bridge with 500-foot drop
A thrill-seeker from China has a near-death moment when his safety rope breaks while jumping off a 500-foot-high bridge. Watch the terrifying video that's gone viral and that prompted the theme park attraction to close.
An unidentified tourist in China is one very lucky man. While attempting an extreme adventure on a 500-foot high bridge, he narrowly escapes death by a thread when his safety harness snapped during his feat.
A video of the terrifying moment of the man's near-death experience has many reconsidering extreme sports. At the Wansheng Ordovician Theme Park in southwest China, the man who dared to cross a bridge with wide gaps from a height of 500 feet almost didn't make it to the finish line.
The short clip begins with the man quickly jumping from gap to gap and moving towards the end of the bridge. A missed step would mean falling into the gap and dangling from a safety strap attached to him. However, as he's about to take his last step towards the final landing, his safety rope breaks. Luckily for the man, the rope broke just in time for him to land his feet safely at the end of the bridge. The man didn't even realize the rope broke until he turned around and saw that he was no longer strapped to it. And just like that, he survived a brush with death.
Following the incident, government officials conducted an investigation and discovered the man wasn't properly harnessed. However, a staff member insisted the video was staged as part of a publicity stunt though many weren't convinced. The Wansheng Economic Development Zone deemed the staff and the theme park guilty of negligence in their operation. The attraction, known as the "Extreme Leap" was immediately closed pending further investigation. Take a look at the terrifying moment here.
Extreme sports provide a terrifying thrill that not everyone is equipped to handle. Those who are capable of challenging themselves to conquer these heart-stopping activities find a way to enjoy them despite knowing their risks. However, because we don't live in a perfect world, sometimes things go wrong and pose a threat to one's life. This happened to successful businessman Richard Branson. An extreme sports enthusiast, Branson decided to balloon around the world. Unfortunately, his balloon malfunctioned over an ocean. Thinking he wouldn't be rescued, he even wrote letters to his family members. Fortunately for him, he made it home alive.
Branson had previously rappeled from skyscrapers, kitesurfed in dangerous surf waters, and skydived. One of his future goals is to visit the moon with his own spaceship courtesy of his company Virgin Atlantic that's evolving into Virgin Galactic. Just recently, the ambitious entrepreneur announced that Virgin Galactic will be in space in just a few weeks and that he would be on it in just a few months. His main goal is to allow people to travel to the moon, but at a pretty steep cost.
Please fill in your e-mail so we can share with you our top stories!