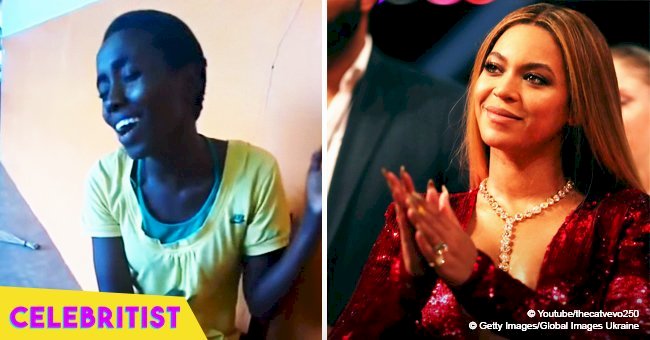 African girl went viral after her amazing rendition of Beyoncé's hit song
A Burundian 18-year-old girl caught the attention of people all over the world with her cover of Beyoncé's hit song "Halo." Audrey Iteriteka has an incredible voice, and she quickly became an Internet star.
The girl, who's allegedly an orphan, was captured on video by one of her friends as she shyly showed off her incredible voice. Wearing a yellow and green blouse, Audrey sat down in a chair near a wall in what looks like a classroom as some other girls kept chatting in the back.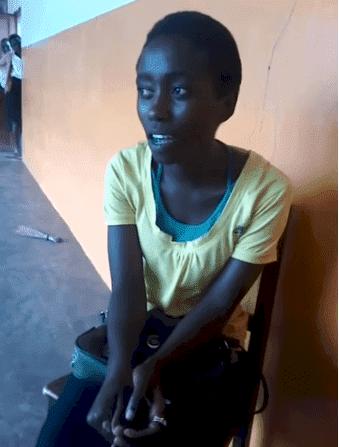 Source: YouTube/thecatvevo250
Audrey's talent came afloat as soon as she sang the first notes of "Halo," and some of her classmates and teachers couldn't help but stop what they were doing to peek inside the classroom and see what all the fuss was about.
A FLAWLESS PERFORMANCE
She hit every single note of the song with an effortless perfection, and even when she was making her classroom vibrate with her powerful voice, the girl seemed shy and reserved, smiling in between verses and looking suddenly aware of all the attention but never stopping her singing.
At one point, after the first chorus, she signalizes her friend to cut the recording, but as the camera keeps rolling, so does Audrey.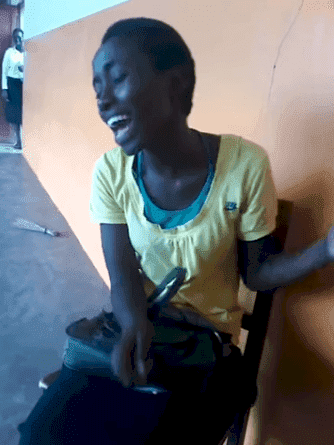 Source: YouTube/thecatvevo250
People from all over the world saw the video, posted to YouTube, and some even consider Audrey did a better job with the song than Beyoncé. The girl quickly became a viral sensation and national pride for her country, and was labeled as the "Beyoncé of Burundi."
HER COUNTRY'S PRIDE
According to A Plus, Audrey knew her voice was beautiful, but she never expected the clip to become so viral. Audrey pointed out that she felt both happy and surprised at the same time when she learned she was famous.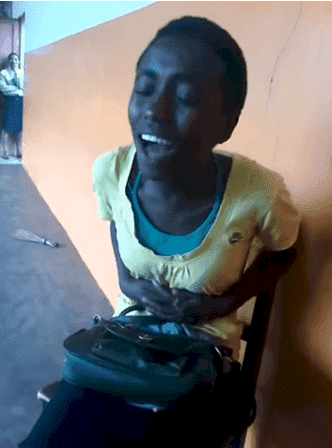 Source: YouTube/thecatvevo250
In an interview with Akeza, the girl revealed that she was thankful to every single person that had shown her support and encouragement to follow her dreams. And when asked if she would start working on her music career, she said:
"I hope so... I also believe that at the same time, I would be making known my country. Because everyone will want to know where I come from. And it will be a pride to make Burundi known."
Audrey shared a few other covers after her initial success, and she's considered a national celebrity among her peers.
BEYONCÉ SAW THEIR YOUTUBE VIDEO AND CHANGED THEIR LIVES FOREVER
Another Internet sensations turned stars are teenage sisters Halle and Chloe Bailey, also known as the musical duo Chloe x Halle.
The 18-year-old Atlanta born singers had been posting music covers on their YouTube page for years, but one performance of Beyoncé's "Pretty Hurts" started it all for them. The girls quickly became a viral sensation for their amazing vocals at sung a young age, and the video eventually reached the Queen herself.
Knowles shared the video on her Facebook page, creating even more buzz for the girls, and by the next year, they were signing a 1 million dollar contract with the singer's record label, Parkwood Entertainment.
Their first EP, "Sugar Symphony" was released in 2016, and the same year, they did a cameo on Beyoncé's visual album "Lemonade." They also got the opportunity to open for Beyoncé on the European leg of her Formation World Tour.
The girls released their first studio album "The Kids Are Alright" earlier this year, and they joined DJ Khaled as the opening acts for Beyoncé's and Jay-Z's joint tour, "On The Run II."
Please fill in your e-mail so we can share with you our top stories!