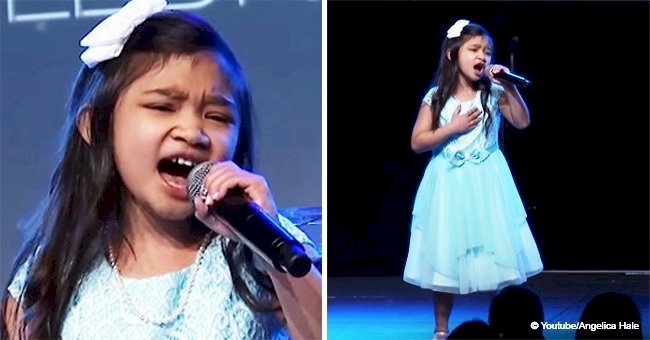 8-year-old stuns the audience with her voice that sounds just like Whitney Houston
Angelica Hale might be an adorable looking little girl, but her voice is so loud that when people hear it, they are left amazed at her incredible talent. She first became famous at 9, with an astonishing audition in "America's Got Talent," but she was already making moves as a singer before that.
Hale is the daughter of James Hale and Eva Bolando, and she's half Philippino from both her parents' sides. As a toddler, Angelica went through a health scare that made her parents believe they would lose her early. She was diagnosed with a severe case of bacterial pneumonia which turned into septic shock, causing some of her organs to malfunction, including her kidneys.
She began to receive dialysis, and after spending 180 days at the Children's Healthcare of Atlanta, the girl received a life-saving kidney transplant from her mother, Eva. Angelica was able to keep on doing what she loves, singing with all her might.
At 9-year-old, Hale did a jaw-dropping audition for the reality competition "America's Got Talent." She appeared on stage with a shy smile and telling how excited she was to be on the show after watching it on YouTube.
When asked who does she wants to be like, she confidently stated: "I want to be the next Whitney Houston, I want to be a superstar." After that statement, the judges and the audience's expectations were high, but when the song finally started, they were still left in shock.
Angelica made an incredible performance of "Rise Up" by Andra Day, which earned her a standing ovation from the public and cheers so loud that she ended up crying after receiving such a warm response.
The little girl then revealed that Mel B was her favorite judge, creating a hilarious reaction from Simon Cowell, but either way, she got four Yes and was able to pass to the next round of the show. Later, at the judge's cuts round, her rendition of "Girl on Fire" by Alicia Keys she received a golden buzzer from guest judge Chris Hardwick, passing to the live rounds automatically.
Angelica ended up reaching the final of the show, where she sang "Stronger (What Doesn't Kill You)" by Kelly Clarkson with the singer, and finished the competition in second place, becoming the youngest runner-up in the history of the show.
While she didn't get to sing a Whitney Houston song on the show, Angelica sang "Greatest Love of All" at the Children's Miracle Network Hospitals annual conference in Orlando, Florida in 2016, she was 8 at the time. After her audition, the video of her performance became viral, earning more than 15million of views.
Hale, now 11, continues singing and making shows, and she recently became a national ambassador for the Sepsis Alliance's "It's All About TIME," campaign, which aims to raise awareness about the condition as a medical emergency.
Whitney Houston's songs are a favorite when it comes to kids proving their talent. Two years ago, Selenay Dagdelen stood on the stage of "The Voice Kids," to wow the judges and the audience with her beautiful rendition of "I Will Always Love You." This is proof that Houston's music is timeless and even little kids who didn't get to live at the same time as the singer, appreciate her music.
Please fill in your e-mail so we can share with you our top stories!