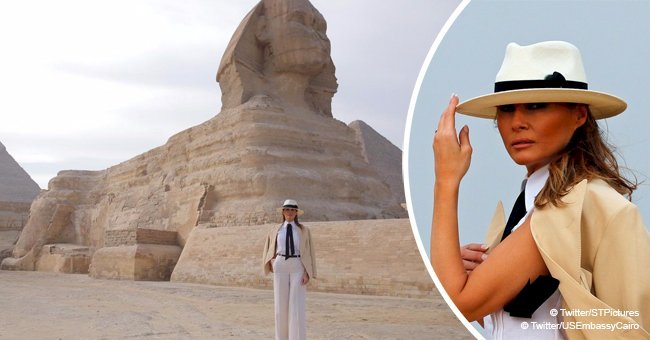 Internet mocks Melania's khaki suit in Egypt, claiming she looks like a famous Hollywood villain
Melania Trump traveled to the continent of Africa where she visited the countries Ghana, Kenya, Malawi, and Egypt. Her outfit for the last nation got her in hot water.
The first lady's first solo trip abroad resulted in smiling faces from kids located in the African countries. But according to Inside Edition, it also triggered extensive backlash due to the last outfit she wore.
Melania's outfit looked eerily similar to the archaeologist villain on the Indiana Jones adventure "Raiders of the Lost Ark." The character, René Belloq, subsequently was blown up by God in the film.
Follow us on Twitter for more @amomama_usa.
Melania took a photograph in front of the Great Pyramid on Saturday and received extensive scrutiny.
Others compared her look to Michael Jackson's in his "Smooth Criminal" video.
The outfit featured a wide-brimmed helmet, a black tie over a white Chanel blouse, and a khaki blazer. People were offended with the pieces from head to toe.
The helmet reflected a symbol of colonialism for many. While the rest of the outfit was despised for its villainous undertones.
Kate Bennett, a CNN correspondent, said:
"This is a first lady that no matter what she does — it's sort of 'damned if I do, damned it I don't. Certainly, there is also going to be a meme. We saw this with Hillary Clinton on the campaign trail. We used to see it sometimes with Michelle Obama."
About the helmet, Bennett explained:
"Many Africans took offense at the white pith helmet simply because it hearkens back to a time in their culture and their history where it wasn't necessarily the best for them."
Herve Pierre is the designer who reportedly helped in creating the look.
He told Women's Wear Daily:
"The effort is always one of teamwork with the first lady always having the final word."
Aside from the fashion faux-pas, Melania spoke on other significant matters relating to Supreme Court nominee Brett Kavanaugh.
She referred to Kavanaugh as being "highly qualified." Regarding Dr. Ford's allegations, Melania said she is happy the accuser was heard.
Perhaps most importantly, Melania was asked if she believed Dr. Ford, she stated:
"I will move on that. We need to help all the victims no matter what kind of abuse they had. I am against any kind of abuse or violence."
Just last week while in Kenya, Melania wore a similar outfit for her visit to the David Sheldrick Wildlife Trust in Nairobi, Kenya.
The 48-year-old was allowed to feed two baby elephants at the park, and one of them gave her a small knock. For a 500 lb animal though, it could have been quite a fright.
Source: YouTube/ Inside Edition
The first lady remained unfazed, immediately smiling again right after she was bumped a couple feet backward.
Please fill in your e-mail so we can share with you our top stories!