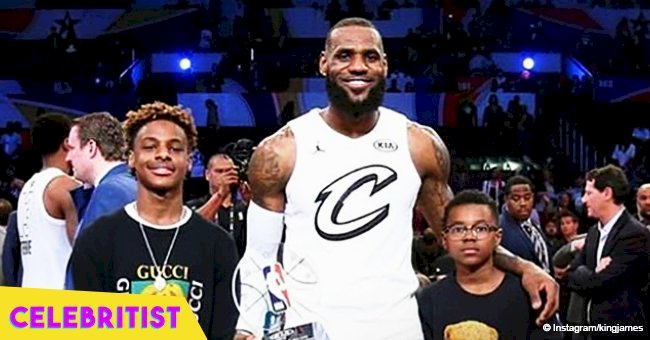 'Just put it on dad,' Lebron James reveals his 14- and 11-year-old sons drink wine
NBA superstar, LeBron James told reporters last night that his sons, Bronny and Bryce, drink wine. He also revealed one more grown-up thing they'll be doing soon.
LeBron, a wine expert himself, told USA Today that his sons, 14-year-old LeBron James Jr., also known as Bronny, and 11-year-old Bryce Maximus James, take wine because they drink "whatever dad's and mom's having." Then he cleared his wife, Savannah James:
"Put it on me, though. Don't put it on mom. Put it on dad, put it on dad."
LeBron, who also shares a three-year-old daughter Zhuri with his wife, joked about his boys' maturity. "That's how mature they are," he said, drawing laughter from the press. "They'll be driving next week, too."
Media correspondents caught up with LeBron at the Los Angeles Lakers' practice which held within the team's training facility.
Before the admission of his sons drinking wine, the L.A. Lakers Forward explained why he doesn't pick up anything related to music or movies from the popular culture. According to him, Bronny and Bryce have him covered in that department.
"You know, everything that they (James' Lakers teammates) listen to or are watching these days, my 14-year-old and my 11-year-old are watching as well."
ONCE BITTEN; TWICE SHY
LeBron and his sons, who have been displaying exceptional basketball skills, are very close. Growing up without a father was tough for LeBron, but it also taught him to be a present dad in the lives of his children.
In an exclusive interview with Chris Haynes, LeBron explained:
"I wanted to be a part of the statistics that breaks the mode of fathers running out on their kids. That was something that I obviously went through and I knew from Day 1 that wasn't going to be me. So, to have a family and be there for them and be there on a day-to-day basis is important. I know I travel a lot but I'm a staple in the household and it means a lot to me and I know it means a lot to my kids."
A DEEP REGRET
Meanwhile, about three months ago, the NBA champion confessed his regret for naming his eldest son after himself. In a teaser for his new HBO series, "The Shop," Jon Stewart, a former host of "The Daily Show," asked LeBron how he gives his sons the "peace of mind" that they don't have to be their dad.
"I still regret giving my 14-year-old my name because of that," he confessed, adding that his children were free to follow their paths.
"The only thing I can do is give them the blueprint, and it's up to them to take their own course."
Please fill in your e-mail so we can share with you our top stories!