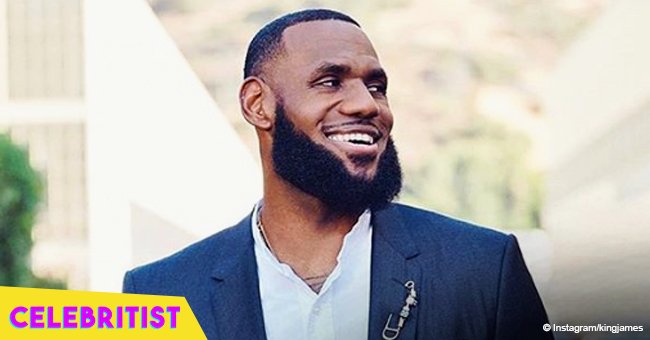 LeBron James praises his daughter's style with pic of her in denim jacket & black pants
Zhuri James is only three-year-old, but she has learned a thing or two about fashion from her family, as proven in a recent pic shared by her father on Instagram. Zhuri and her mother were part of the inspiration behind James' newest Nike collection.
LeBron James' youngest daughter is growing up beautifully, and the smart little girl is already developing her sense of fashion style. In a recent pic shared by the NBA star on Instagram, little Zhuri looks radiant and confident in an outfit she chose all alone to go to school.
The 3-year-old combined a striped black and white t-shirt with a denim jacket, black pants, and black shoes. She completed the look with cat eye white sunglasses and her braided hair. James couldn't help but gush about his daughter in the caption saying:
"How is my 3 year old this fashionable though?!?! She asked if she could dress herself today for school. Man, what!! She's AMAZING!! #PrincessZ."
Fans of the NBA star took over his comment section to praise Princess Zhuri. One user wrote: "Growing up so fast, too long ago she was just a baby. Look @ her styling and dressing herself. U rock," and another added, "She has gotten so big.. what a beautiful family…" and a third one said, "Little girls are full of sugar and spice, fashion and fun, everything nice and all the hugs to come!!"
Earlier this month, LeBron launched his newest collaboration with Nike, the HFR x LeBron 16, inspired by his belief that "African-American women are some of the strongest people on earth." The collection was unveiled at the Harlem Fashion Row Showcase Gala, where the star also got the Icon 360 Award, which honors his fashion style and philanthropist.
"As someone who has a platform, because of what I do, I thought it was important to lend that platform to a group of people that I believe are under-recognized," James said in a press release.
"Being the son, husband, and father of strong African American women, I felt like this was something I wanted to do for them and for all the strong women out there who are succeeding despite what might be stacked against them."
As a nod to the collection, LeBron created a campaign titled The Strongest to celebrate the life of 16 women, including Zhuri, his wife Savannah and his mother, Gloria. Serena Williams, Simone Biles and Lena Waithe are also part of the campaign.
Please fill in your e-mail so we can share with you our top stories!