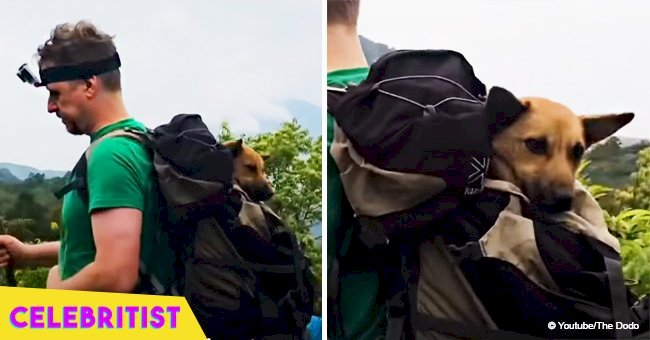 Severely injured dog saved by two good Samaritans after they were warned it's impossible
It was a hiking trip of more than 12 hours through a steep and challenging trail in Northern Taiwan, and even though he had never done something similar, Sean McCormack embarked in the adventure just to rescue a sick puppy, and he took a friend along.
Sean McCormack, an independent dog rescuer, based in the North of Taiwan, was forwarded a photo on Facebook of a 1-year-old dog curled inside a metal kiln in a house at the Taroko National Park. The dog was apparently in bad condition, so he decided to contact the woman who took the pic.
She revealed that she encountered the dog, now named Sandy, on a hiking trip, and that she was worried about his wellbeing. He had lost his right paw in a trap, and his left leg had a big cut from a snare.
The man promised the woman he would get Sandy and help him get better, but he didn't expect how hard it would be to reach the dog. At first, he thought he could drive to the mountain, but there was no back road, and the only way to get there was walking.
Not willing to give up on the dog, Sean contacted his friend Ross Tweedie, co-owner of a trekking company, to help him get there. While Tweedie is used to the long, strenuous hikes, McCormack was in bad shape and had never lived a similar experience.
THE RESCUE
One morning of March the men set off to find Sandy, and for McCormack, the hike was even more brutal than he thought. Tweedie then started to worry about taking Sandy from the house where he was spotted, as they didn't know if the dog belonged to someone that would stop their rescue.
When they finally arrived, however, they faced another problem: they couldn't find the dog.
After looking for a while, they finally saw movement under a pile of chairs, and there was Sandy.
"This little dog was under there, wagging his whole back end," McCormack told The Dodo.
"Once we saw him, we both just changed our attitudes again — I suddenly had a lot of energy, and Ross was going to get that dog out no matter who complained about it."
Once they got Sandy out, the dog put his head on McCormack lap and looked very happy to see them. "He was just looking like he wanted a hug," McCormack added.
THE AFTERMATH
Sandy was quiet and collaborative while they put some bandages on his injuries. However, the men knew Sandy needed medical attention immediately, so they put him on Tweedie's bag and took turns carrying him down the six-hour trail back home.
"He didn't make a sound," Tweedie said. "He didn't bark; he didn't whine, he didn't cry. He was an angel."
The vet ended up amputating sections on both of Sandy's front legs, and McCormack took him in while he recovered. Soon after, a restaurant owner read about Sandy's story on Facebook and contacted McCormack: he wanted to offer Sandy a new home.
The happy dog is now getting fitted to have prosthetic legs, and he couldn't be happier in his new home.
Is not the first time that McCormack shares a beautiful story of a rescued dog. Through his Sanctuary, created 15 years ago when he moved from Kent to Taiwan, the man takes care of all kind of animals and helps them find a new home.
THE STORY OF TINY THE ROTTWEILER
In 2014, the story of Tiny the rottweiler stole hearts all over social media.
The dog was abandoned on the street and left to die. He had a severe case of mange and was depressed. He was all skin and bones with McCormack decided to rescue him, even though he had been told the dog was highly aggressive. He said to the Daily Mail back then:
"At first, I thought he was a mastiff because he was in such a bad state that it wasn't clear to me what breed he really was. But my friend Jeff, who has two very lucky rescued Rottweilers, knew right away that Tiny was a Rottie."
Tiny turned out to be one of the sweetest dogs in the Sanctuary, and although his recovery was slow, he's now in excellent condition. He was crowned Grand Champion of Ruffs 2014, a dog show that celebrates animals that have overcome mistreatment and abandonment.
Please fill in your e-mail so we can share with you our top stories!