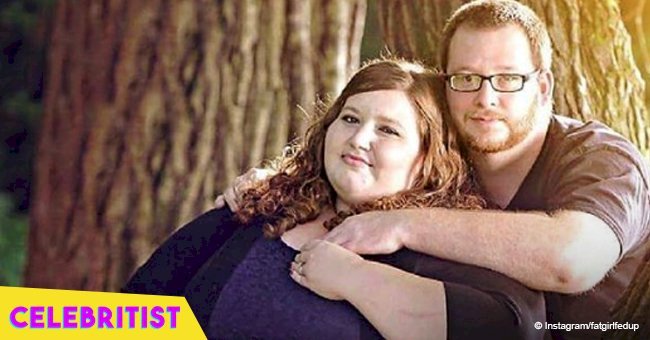 Couple drops more than 400 pounds after making a New Year's resolution to lose weight
Lexi and Danny Reed decided to change their lives in New Year's Eve 2016. Now, two years later, their weight loss transformation proves that hard work and determination can lead to greatness. Together they have lost more than 400 pounds and still counting.
Before the life-changing experience, Lexi weighed 480 pounds being 25-years-old, and her husband, Danny, 280 pounds. Danny couldn't even properly hug Lexy; his arms couldn't reach her entire body.
After realizing that their lifestyle was not healthy at all, Lexi and Danny decided to take back the reigns of their lives by making a new year resolution. They stopped going out to eat, enrolled in the gym, and started to eat healthily, all while documenting their journey on Instagram.
THE CHALLENGE
Lexi recounted to WTHI-TV the first days of their new lifestyle, saying:
"We didn't party with our friends or anything anymore; we didn't have cheat meals. We just were constantly healthy. I think after that first 30 days, it just became so much easier because we had learned what we couldn't eat. From there on, it wasn't a resolution anymore; it just became our lifestyle."
"We are living the life we had always imagined just because we made the decision that we were ready to change," Lexi captioned a transformation photo alongside her husband.
"We made the decision of no more excuses and the decision to put in the work while learning every single day. We are always one decision away from a completely different life, and we have learned it's not about the weight that you lose, but the life that you gain."
These days, Lexi has lost more than 300 lbs, and she recently went out in a bikini for the first time in years. She and Danny keep on working out together and motivating not only each other but also the large community they have created with people from all over the world on Instagram.
A MOM HAD A HEALTH SCARE AFTER GIVING BIRTH AND DECIDED TO CHANGE HER LIFE
After Chasity Davis gave birth to her third daughter, she started to feel out of breath, and while she thought it would eventually pass, her doctors knew there was something wrong. They took her to the cardiac ward, and discovered not only that she had a clogged artery, but also that her heart had stopped for three seconds and her blood pressure was "sky-high."
Davis had been obese for most of her life, but she had never experienced any health problems: any diabetes, no high cholesterol or pressure. So, when she was stopped from seeing her newborn daughter because of her health, she was mad.
She didn't think three seconds were worth so much dramatics until her cardiologist told her "In the cardiology world, three seconds is a long time. You only need one second to be out of here permanently."
Soon after, Davis decided to change her lifestyle. And for a starter, she had a gastric sleeve surgery to reduce the size of her stomach. That helped her lose 65 pounds, but she still had a lot of work to shed the other 300 pounds.
The mom of three started to work out seven days a week, twice a day while taking care of her meals and avoiding sugars. But exhaustion hit in, and she stopped with her exercise routine. However, she didn't give up.
Davis found GirlTreck, a foundation that encourages women to develop walking habits by creating walking groups where they could meet up and set goals together. "I can lose weight through walking," she told Today. "I really took the walking to heart and accepted all the challenges."
Now, Davis has lost almost 300 pounds, and she says she feels great about herself and her health.
Please fill in your e-mail so we can share with you our top stories!