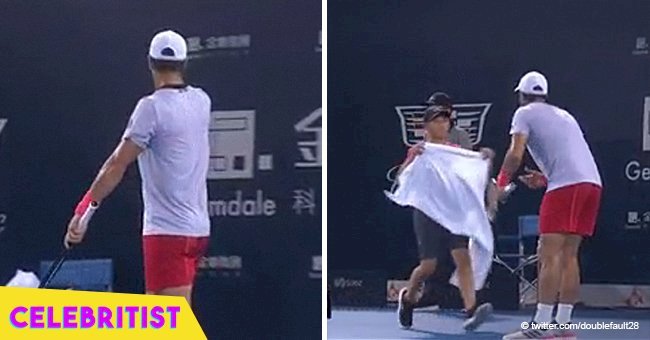 Tennis pro gets slammed after video shows him mistreating ball boy

Footage of a Spanish tennis player showing harsh behavior towards a ball boy has prompted tennis stars to slam his behavior. New measures are reportedly being set in place in order to prevent the incident from happening again.
Spanish tennis player Fernando Verdasco is on the receiving end of some off-court heat when many witnessed his maltreatment of a ball boy during last month's Shenzen Open in China. Verdasco is being criticized for his harsh behavior towards the boy who failed to give him his towel fast enough.
Footage from the event revealed Verdasco aggressively berating the boy which prompted tennis luminaries to tweet their dismay. Tennis great Chris Evert wrote,
"Not cool…at all…"
While Grand Slam winner Andy Murray's mother, Judy Murray tweeted,
"What about a rule that makes players get their own towels?"
Roger Federer, a former ball boy himself, spoke at the Shanghai Masters this week and stressed the importance of setting high standards for the treatment of ball boys and girls. However, he also understands the great pressure tennis players are under not to hold up a game too long and why they would expect the quick response of tennis personnel in the court.
Solutions are currently being deliberated on the best way to solve the towel issue so incidents like Valdesco's won't happen again. One idea is to place a towel rack at the back of the court which will be put to test during next month's Next Gen ATP Finals in Milan. However, world number one Rafael Nadal and Japan's world number 12 Kei Nishikori both agree this may not be such a good idea since it will slow down the game. Even Federer has his reservations about it.
Verdasco isn't the first player to be mean to a ball boy. In last week's China Open, Belarusian Aryna Sabalenka shook an empty bottle to a ball boy's direction before tossing it to the floor.
With two cases already in the limelight, it's most likely measures will be taken to ensure that ball boys and girls are protected from future incidences of players directing their ire on them as a result of a high-pressure game.
Serena Williams would agree that the pressure during a tennis match could sometimes lead a player to lose it. Many are aware of what happened during the US Open when the tennis superstar became highly emotional while arguing with umpire Carlos Ramos during her final match with this year's US Open champion Naomi Osaka. Serena called out Ramos for giving her a penalty for court violation. Ramos believed Serena received illegal coaching during the match. Serena went into an outburst as she tried to prove to Ramos that he was wrong. Her outburst led to her accusing Ramos of being a liar, a thief and she even pulled out the sexism card. In her anger, she broke her tennis racket which resulted in another violation.
In light of Serena's perceived tantrum, umpires are considering boycotting her future matches seeing her lack of respect for their calls. It's unclear if this will actually happen but hopefully not.
Please fill in your e-mail so we can share with you our top stories!