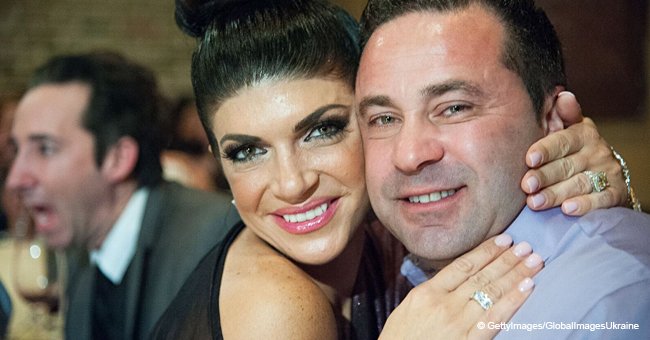 Teresa Giudice's husband Joe to be deported to Italy after prison
The reality TV couple thought that once their prison sentences were over they could have their lives as they know it back, but Joe's deportation would put the stability of the family in jeopardy.
46-year-old Italian-born Giuseppe Giundice, commonly known as Joe, has 30 days to appeal the October 10 decision of Judge John Ellington to have been deported from the US once his time in prison is over, as Radar Online reported.
"Based upon the law, I find you deportable and ineligible for any kind of relief. Mr. Giudice, no matter how this turns out, I wish you the best. I decided this case as a matter of law," were the words of the judge.
Joe received the bad news via teleconference from his Allenwood, Pennsylvania prison, where he has served his sentence since March 2016 after pleading guilty of 41 counts of fraud and tax evasion.
His wife, "The Real Housewives of Beverly Hills" star Teresa, who was also indicted on similar charges and served her time in prison in 2015, was reportedly not present at the immigration court hearing, according to E! News.
"I've been here my whole life, I wouldn't know what to do in any other country. I want to stay here."
-Joe Giundice, Radar Online, October 10, 2018.
After hearing the verdict regarding his status as an immigrant, Joe, who grew up in the country even though he never became legally a citizen, had some words to say to the judge.
"I don't understand how I can be deported on this case. If you will, I'll tell you my side. I shouldn't even be here right now. I have to go back and tell my kids this, and they've been waiting to hear from me," a shocked Joe said, to which Judge Ellington replied: "I get no joy in telling a family this news."
Joe and Teresa have been married since 1999 and the two are parents of four daughters. But since their troubles with the law and after both were sent to prison, there have been persistent rumors about an upcoming divorce.
Even though Teresa, who was born in the US, has denied this rumors many times in public, and has said to not mind leaving the country for Italy to keep the family together, according to ET, she might be having second thoughts following the judge's decision.
A source has reportedly told the news outlet that now that it is almost a fact that Joe is going to be deported, Teresa might be considering her many reasons to stay in the US, and she is most likely to decide to continue her life in the country, away from her husband.
"As much as Teresa said she would live in Italy with Joe in the past, that most likely won't happen as her father is in the States, and so is her family and friends. If Joe doesn't win the appeal, his relationship with Teresa is in question," the insider shared.
The Giundice's are not the only members of the reality TV franchise who are going through difficult times. "The Real Housewives of Orange County" star Tamra Judge's husband Eddie is also in trouble, not with the law but because of his health.
Recently, Tamra took to her social media to ask her followers to pray for Eddie as he underwent his fourth heart-related surgery in a matter of months.
Please fill in your e-mail so we can share with you our top stories!