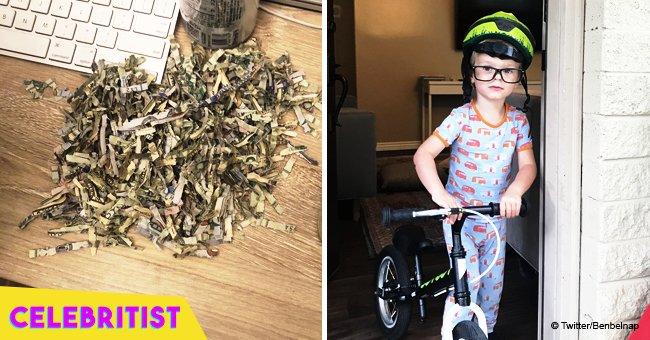 Parents can't find their envelope of money, suddenly mom notices that it's shredded into strips
The parents of a 2-year-old boy from Utah had their patience tested when they found out their son had shredded an envelope with more than $1,000 in cash. Luckily for them, not all was lost.
Ben Belnap was over the moon when he received season tickets to see his favorite team, the Utah Utes, from his parents, but he decided to pay them back. After discussing it with his wife Jackee, the couple started to save up money and stash it on an envelope to later give it to Ben's parents, as a token of his appreciation.
By the time the money was complete, and Ben wanted to give it to his parents, the envelope had mysteriously disappeared. Desperate and disconcerted, the couple searched all over their home, overturning furniture, objects and everything on their way in the hopes that the enveloped had accidentally slipped somewhere.
However, when Jackee finally found the money, it wasn't in its original state.
"I'm digging through the trash, and she hollers and says, 'I found it,' " Ben told NBC. "She's holding the shredder, and she says, 'I think the money is in here.' We started laughing. We were just baffled that this could happen."
The responsible was their 2-year-old son, Leo. While baffled at first, the parents took the incident lightly, deciding to laugh it off as they believe it will make for a good family story in the future.
"As devastated and as sick as we were, this was one of those moments where you just have to laugh," Jackee told ABC 4. "Honestly in my heart, I said someday this is going to be really funny," Ben added.
Not everything is lost for the couple though. They contacted the U.S. Department of Treasury to see if there was something they could do, and it seems like they will be able to replace the shredded money and get back the $1060 that they worked so hard to save up.
After Ben shared the hilarious but mortifying story on Twitter, people all over social media sympathized with him, telling him similar stories about their kids and praising his and Jackee's positive attitude.
"We have a lot of Leo moments," said Jackee. "Most of them are just funny, and we laugh about them for days and big jokes, but this was one of those moments that wasn't his greatest, but we love him."
Leo will surely hear about this when he grows up, and hopefully, he'll be able to pay back to his parents for his mischievous ways.
Please fill in your e-mail so we can share with you our top stories!