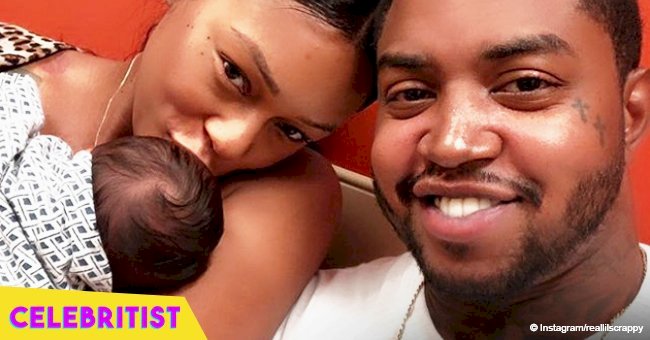 Lil Scrappy asks for a special prayer for wife Bambi in recent post with newborn son
Lil Scrappy could not hide his joy as he cuddled his new son in a recent photo. The reality TV star also asked fans to say a prayer for his wife who just put to bed.
In what looked to be an intimate Father-Son moment, Scrappy reclined on a sofa with his son, Breland, napping on his chest. The infant looked peaceful wrapped up in a blanket and feeding off his dad's warmth.
Scrappy shared the photo to his over two million followers on Instagram and wrote:
"Otw to Houston and I got my father&Son time in with the young #Prince #Breland, but he went to sleep after he ate lol, he dnt really need me right now all he want is mama lol, was trying to let my wife sleep but he crunk right up , pray for her she's a great mom @adizthebam"
Scrappy and his wife, fellow "Love & Hip Hop: Atlanta" star, Bambi Benson are over the moon for the arrival of their son, but the new mom must need all the help and prayers she can get.
Bambi already opened up about her difficult pregnancy in May, when she informed her fans that she'd been experiencing hyperemesis gravidarum, a severe type of morning sickness.
The model detailed her challenges in a revealing post and thanked Scrappy for being a supportive husband:
"Sorry guys, it's been a struggle. But I'm soooo thankful for my wonderful husband who has been more amazing than I ever imagined. Thank you Boo... If you see me outside it's because I have to be, so don't take a pic of me looking a mess please. I'm not looking fine and slaying no pregnancy, it's obviously slaying me #icantevenswallowmyownsaliva"
CLOSE SHAVE
Meanwhile, Scrappy, whose real name is Darryl Kevin Richardson, came close to losing it all after a near-death car crash in June.
Scrappy and his friend were leaving a Miami strip club in the early hours of the morning when he reportedly fell asleep at the wheel.
The hip-hop talent sustained many injuries for which he was hospitalized, and his friend was placed in Intensive Care.
ONE BIG FAMILY
Three months later, on September 21, Scrappy welcomed his son with Bambi. Breland is the couple's first child together, but Scrappy also has a teenage daughter, Emani, from a previous relationship with TV personality, Erica Dixon.
Last week, Scrappy shared a photo of Emani cuddling her baby brother, and the proud dad was full of praises to God.
"Man I'm blessed I got both of my babies ya dig and my big baby my wife I'm getting all the blessings from the big God," he wrote.
Best wishes to the lovely family!
Please fill in your e-mail so we can share with you our top stories!