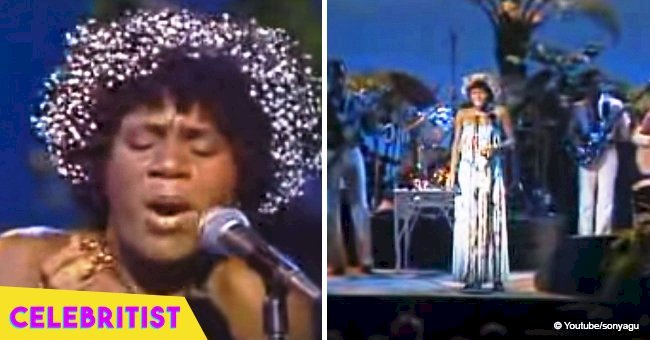 Flashback: Minnie Riperton's performance of 'Lovin' You' that was written as a lullaby to her kids
Minnie Riperton was a very talented singer and songwriter who rose to fame thanks to her song "Lovin' You," which was initially written as a lullaby to her children.
Unfortunately, she passed away at the age of 31, so she didn't have enough time to enjoy her raising career or her life with her family. In 1976, when Minnie was 29, she went to the "Tonight Show" to reveal that she had undergone a mastectomy due to breast cancer.
The singer added that, when doctors diagnosed her, they said she had about six months to live. Thankfully, she fought her best and managed to go on tours for two more years and to become the national spokeswoman for the American Cancer Society.
HER PASSING
Almost three years after being in the show, her right arm got immobilized, one of the effects of the illness. On July 12, she passed away at the Cedars-Sinai Medical Center in Los Angeles. Minnie was reportedly laying in her husband's arms.
HER MOST POPULAR HIT
While she was alive, she wrote and recorded one of the songs that reached the number one on the US Billboard Hot 100 in 1975, "Lovin' You." That tune was part of her second studio album titled "Perfect Angel."
Minnie and her husband, Richard Rudolph, wrote it, and it was supposed to be a lullaby to their children Marc and Maya Rudolph. The LP version of the song has Minnie singing "Maya, Maya" at the end of it.
MAYA, MINNIE'S DAUGHTER
Maya, who became a famous actress and comedian who has worked in projects like "Saturday Night Live," revealed in an interview she had with U Discover Music that she learned "Lovin' You" was written for her and her brother many years later.
"I didn't really put together that 'Lovin' You' was for me and my brother. I heard my name and was kind of like, 'Oh that's cool, it's for us,' but we didn't really know," revealed Maya.
MAYA'S TRIBUTE TO PRINCE
Apart from that, the actress proved that she could sing, too, during a musical tribute she, Gretchen Lieberum, and D'Angelo did to Prince on the "Tonight Show Starring Jimmy Fallon,"
MAYA'S SINGING VOICE
In an interview Maya had with HipHollywood, she revealed that she could not reach the insanely high notes Minnie used to. The actress pointed out that she didn't know why the genetics were cruel to her in that aspect.
She finally confessed to being more like a baritone as she has a low singing voice. Apart from her roles in "SNL," she has worked in "Up All Night" and "Forever," and has been working in "Big Mouth," "Big Hero 6: The Series," and "The Good Place."
Please fill in your e-mail so we can share with you our top stories!