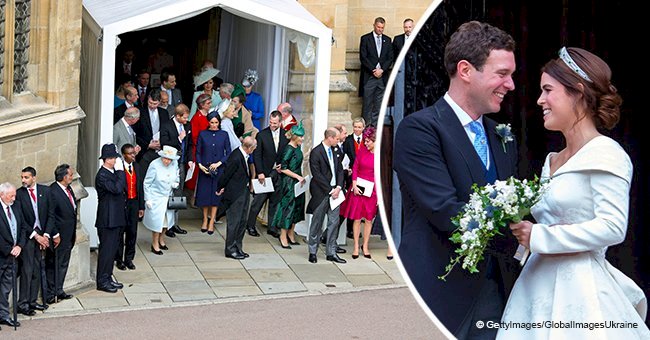 Here is everything we need to know about Princess Eugenie's wedding reception
A beautiful and memorable Royal Wedding with a few surprises.
The longtime couple wed at the same venue as Prince Harry and Meghan Markle, St. George's Chapel on Friday morning. Following a traditional service, the newlyweds rode in a horse-drawn carriage procession through Windsor before they joined their wedding guests for the reception at Windsor Castle for the reception hosted by the Queen.
About 850 guests attended the wedding ceremony and luncheon reception, among the guests were stars such as Ellie Goulding, Kate Moss, Liv Tyler, Naomi Campbell, Robbie Williams, James Blunt, and Demi Moore.
Andrea Bocelli sang a beautiful rendition of 'Ave Maria' and princess Eugenie read a passage from 'The Great Gatsby.' Prince George and Princess Charlotte, children of Prince William and Kate Middleton were pageboy and bridesmaid.
Read more on our Twitter account @amomama_usa.
Peter Pilotto and Christopher De Vos designed Princess Eugenie's stunning dress under the British label Peter Pilotto and she specifically asked for her dress to have a low back to show the scar from her scoliosis correction surgery when she was 12 years old. She had no veil but wore the Greville Emerald Kokoshnik Tiara, loaned to her by the Queen.
Guests got served canapes were all given maroon tote bags emblazoned with intertwined initials and the wedding date. The wedding cake designed by Sophie Cabot was made of layers of red velvet and chocolate, covered in white icing, decorated in autumnal orange leaves and dark green ivy sugar work. The bride and groom's initials J and E in golden monograms around the base.Prince Andrew, proud father of the bride entertained with his light-hearted and moving speech.
A guest at the reception commented:
"Prince Andrew gave a great father-of-the-bride speech, there were some great anecdotes from childhood and all the way through to current affairs."
The second reception, a black-tie evening event will be held at the Royal Lodge, which is Prince Andrew's royal residence. But the celebrations don't stop there, Eugenie and Jack will continue festivities on Saturday afternoon.
The event organized by Bentleys Entertainment will kick off in festival-style with a fairground and food stalls. Bentleys was also used by two of Eugenie's royal cousins, Peter and Zara Phillips, however, Bentleys declined to comment on the event.
The wedding cost the British taxpayers an estimate of $2.6 million, and they are not happy. Hasan Patel said on Twitter:
"Princess Eugenie is getting married today. I hope she has a nice time knowing that millions of pounds of taxpayers money are being used for her special day while school children go hungry and rough sleepers are dying on the streets."
A campaign got started for all in favor of abolishing the British monarchy, that no public money would be used towards the wedding and to publish all taxpayer costs, a petition almost 47,000 people signed.
Please fill in your e-mail so we can share with you our top stories!