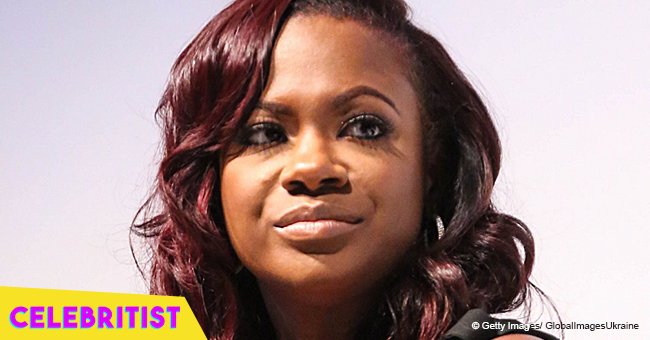 Kandi Burruss slammed heavily for allegedly paying hired model $150 while she earned $91K
An Atlanta model is speaking up about unfair pay and slammed Kandi Burruss in particular for attempting to hire him for $150 for an event that earned her $91k.
Kandi Burruss was pretty excited when she released a promotional video for her sex dungeon-themed party. But one of the models she intended to hire wasn't particularly thrilled.
In a video he posted on Instagram, the model who goes by the name of Swift slammed Burruss for lowballing him. He claims the reality star only offered to pay him $150 for her "Welcome to the Dungeon" party that earned her $91k in ticket sales in four days. Swift also addressed all his fellow models to know their worth instead of just concentrating on getting as many likes on social media.
"Worrying about how big your numbers are on instagram but not worried about how big the numbers are in your bank account. We need to eat too!"
Swift, who turned down Kandi's measly offer for a five-hour gig, also advised his peers to learn to say no and find a way to strike a balance between getting a decent paycheck and earning a following on social media.
"You're crazy if you think I'm going to a party like that for that price. It's got to amount to more than just social media. Why can't we both have a nice check and a nice following."
Swift's point really is just to be paid fairly so he can have a decent living.
"Pay us what's fair. I'm not doing this for likes and followers I'm doing this to eat. Models are out here starving because they keep falling for the oke doke. It's devaluing the market."
Burruss didn't directly respond to Swift's complaint but the model suspects the mashup video she posted about haters was directed to him. Swift thinks the clip which features Burruss singing the lyrics, "It's money Monday, go get it!" was a response to his post. He reposted the video on his Instagram and wrote,
"Here's the subliminal response from the ATL legend herself (View previous 2 post if your just now catching up). I guess I'm a hater or maybe you're the haters for supporting me/yourselves/this situation. Who knows? But I'm about everybody getting money and having success! So I'm not sure how this is hating. I'm just working on pushing the culture forward in the industry to get paid what's fair and more is fair for a job like this."
Burruss' dungeon party is expected to be a success regardless of the backlash she's getting. She's reportedly also simultaneously launching new music and a new video. With the success of her party's ticket sales, the entrepreneur is even considering bringing her dungeon gig to other cities.
"We're dropping the video for #ReadyForThis Friday…can't wait And we're thinking about bringing the dungeon to different cities. Where should we go?… & would you cum? I mean come?"
Fans are also looking forward to winning $1,000 by wearing the wildest outfit to the event.
Burruss is on a roll with her business. After successfully launching her Bedroom Kandi adult toy line, she recently revealed she was on to another project, a makeup line she's calling Kandi Koated. She disclosed this a couple of months ago amid rumors of her reconciliation with her "Real Housewives of Atlanta" co-star Porsha Williams. The two previously had a feud ignited by their other castmate, Phaedra Parks. However, that seemed to have ended when Burruss began following Williams on Instagram again and Williams attended Burruss' husband's birthday party.
Please fill in your e-mail so we can share with you our top stories!