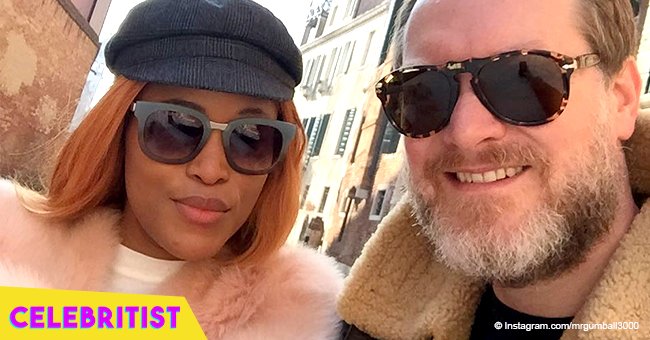 Eve flaunts her enviable curls, wearing dark off-shoulder dress in photo shared by husband
Now that Eve has chosen to drop the wigs and go on the natural route with her hair, she's looking more fabulous than ever. Her husband, Maximillion Cooper, seems to be as enthralled by Eve's curls as the rest of the world.
Eve is considered a fashion icon and example to many girls, and even though she hasn't explicitly said it, we can appreciate on her Instagram account that she's been rocking her natural curls for a while now, letting go of the weaves and wigs she'd often use.
In a recent pic shared by her husband on Instagram, the TV show host looks gorgeous rocking a ruffled off-the-shoulder black dress with lace details. She completed the look with a gold purse, matching necklaces, sunglasses and a huge ring. Her curly hair was loose and being blown by the wind.
The couple must have been celebrating something, as they stand in the middle of a garden and Eve was holding a glass with champagne while subtly smiling for her husband's camera.
"#mrscooper looking [fire]," Cooper captioned the picture.
Fans immediately took over the Gumball 3000 creator's comment section to share their thought on the picture. One user wrote "Such a beauty. She's always been a GORGEOUS lady," another added, "Looking unbothered to a point beyond comprehension! The light illuminating!" and a third one said "yes your wife looks divine. I'm happy for you both."
WHEN EVE KNEW MAX WAS THE ONE
Eve and Maximillion recently celebrated their 4th wedding anniversary by posting heartfelt messages to the other on social media. And while some fans criticized the rapper for marrying a white man, she recently revealed the exact moment she knew he was The One.
As a black woman, it was important for Eve to feel comfortable enough around her better half to be on her utterly natural state, a.k.a not wearing wigs. So when Cooper caught her at the salon without her weave done, and she didn't felt the need to cover up, she knew.
"I was actually getting my hair done," she said on "The Real." "I was at a salon actually, in a little suite. He walked in, and I was like, what am I gonna do? Run? He was just like, 'Okay.' I'm his first Black girl anyway. He has gone through Weave 101 with me. He knows now that if I say, 'Babe I'm getting my hair done,' he's like, 'Well, how long?'"
It seems like now Cooper won't have to wait that long for Eve, as long as she keeps rocking her natural curls.
STARTING A FAMILY
On an episode of "The Talk," Eve revealed that she's fed up with people always questioning her age and immediately asking when is she going to have kids. "I am so sick about people making a big deal about women's ages. They don't do this to men," she said.
The 39-year-old, who is the stepmother of Maximillion's four kids from a previous marriage, revealed that she finds annoying every time someone comes up to her and asks why she hasn't given a child to her husband yet. She said:
"We are trying, for anybody who is asking, but it's up to God and the universe. Just stop asking questions."
Please fill in your e-mail so we can share with you our top stories!